AT HAI HELI-EXPO, 7-9 MARCH, ATLANTA, BOOTH B3101,
Vision Systems is a long-standing player in the helicopter industry with a historical expertise of 20 years in helicopter windows. Offering complete functional systems with innovative features, Vision Systems' products are recognized as bestin-class solutions. Its product range includes cyclic sticks, interior linings, sun visors, electric composite footsteps, bad weather windows, jettisonable composite frames, electronically dimmable windows and smart partitions. These systems are aimed at many types of helicopters from utility, to VIP and Urban Air Mobility rotorcrafts. As a key player in the market, Vision Systems has developed a comprehensive know-how to create built-to-spec robust, compact, lightweight, plug and play solutions with various options for customization. The company masters different processes such as Resin Transfer Molding, thermocompression, thermoforming and draping, alongside being specialists in mechanics and electronics.
Vision Systems relies on its teams of engineers, technicians and customer-oriented project leaders, as well on strategic partnerships, to develop the tooling and processes that enable the company to offer tailor-made products meeting cost, quality and lead-time targets. A dedicated in-house R&D center and production plants in France and Florida allow the company to control product development from design to production, while fulfilling global customer requests. At Heli-Expo 2023, Vision Systems will be highlighting different helicopter windows, with flipping, sliding and jettisonable mechanisms, all offering excellent mechanical properties, resistance to vibration and impact, and high optical quality. Vision Systems will also showcase its electronically dimmable windows, a high-end shading and privacy system using SPD (suspended particle device) and PDLC (polymer dispersed liquid crystal) smart glass technologies. SPD allows glass or polycarbonate to turn from opaque dark to transparent in milliseconds, in order to regulate daylight, glare and heat entering an aircraft. PDLC solutions provide an instant switch between transparent and opaque white without blocking visible light for immediate privacy while enjoying daylight. Both technologies can be combined into one window, with or without segmentation (such as a Venetian shade effect) for various customizable possibilities. They enhance visual, thermal and acoustic comfort for a greater passenger experience.
Vision Systems' dimmable windows offer many advantages over other systems. They allow infinite variable shading and instant response time, they automatically switch to their darkest possible state when unpowered (a backup system turning them transparent is available if needed) keeping the interior cooler on the tarmac and reducing air conditioning consumption. An integrated IR barrier further strengthens heat blockage. They also block more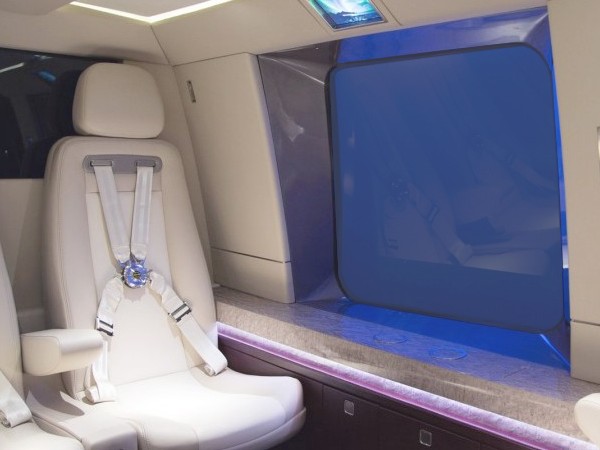 than 99.9% of harmful UV light (even in transparent mode) to protect passengers and to prevent interior equipment from fading. Their fabrication also involves multiple layers of noise-attenuating films to keep the cabin quieter. These smart shading systems provide a strong competitive advantage in terms of aftermarket. They use ultrathin, lightweight, scratch-resistant composite glass, saving interior cabin space and delivering superior optical performance. Furthermore, in addition to being silent, light and compact, these solutions have no moving parts, reducing maintenance and downtime compared to shades. Vision Systems will also present one of its latest innovations for ambiance creation and personalization of passenger space, a smart glass partition between the pilot and the passengers, consisting of a switchable projection display showing messages, images or videos. When nothing is displayed, this divider can remain transparent, or opaque (white or dark) to offer more privacy. Vision Systems' dimmable windows and smart partition convey a modern high-end image allowing for brand differentiation. The variety of products and solutions presented at Heli Expo 2023 solidifies Vision Systems commitment to maintaining and growing its worldwide leadership position in the helicopter market in helicopter windows, equipment, and interior cabin systems for improved passenger experience.
Vision Systems' customers include Airbus, Avia concept, KAI and Kopter
About Vision Systems:
Based near Lyon, France, with production and sales facilities in Florida, USA, and trade offices in Singapore, Dubai and Montreal, Vision Systems is a tier-one system supplier that designs, produces and markets bespoke solutions for the aeronautic, land transport and marine industries. The company's genuine expertise in shading systems including dimmable solutions places it today as the world leader in this area. Furthermore, Vision Systems is a major world player in the development of helicopter windows and high-end composite solutions.
Vision Systems combines complementary skills in electronics, software, mechanics and composite to provide ever more innovative solutions for cost reduction, heightened safety and improved comfort. Vision Systems was acquired by Gauzy Ltd., a world leader in material science and nanotechnology, in February 2022.
Sales Contact:
Hector Jimenez, Key Account Manager, Vision Systems North America hjimenez@visionsystems-na.com, +1 321 265 5110
Press contact: Alexandra Martin-Devaud, Marketing & Communication Director, amartindevaud@vision-systems.fr