The Gauzy NeoCon 2021 Experience
Choosing smart glass or adhesive smart film in office designs means utilizing glass office partitions and windows to provide a greater sense of functionality and control for employees and brands. With the ability to instantly turn a glass from transparent to opaque for aesthetic privacy, projection, and whiteboard use, LCG® smart glass is a clear choice for modern offices that seek a design that speaks to future facing styles and occupant requirements.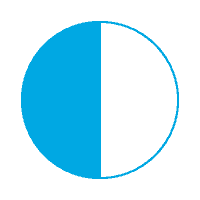 Dynamic Privacy
Complete privacy or transparency at the flip of a switch in milliseconds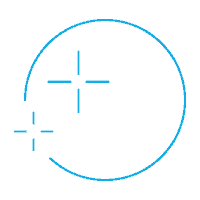 Easy To Clean
Eliminate fabric or electronic curtains that collect germs and require maintenance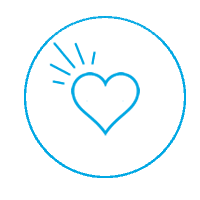 Enhance Wellbeing
Enjoy light filled privacy, cooler interiors or shaded views for a greater sense of connection and control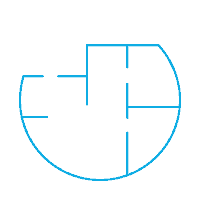 Optimized Design
Make glass multifunctional while optimizing space and replacing traditional curtains with a tech-savvy solution
As a global construction partner, the
Clestra
group offers world-class partitioning and pods, designed to provide intelligent solutions for open, hybrid, collaborative, or confidential workspaces. Gauzy LCG® Smart Glass technologies are easily integratable to Clestra's diverse systems, adding additional ways to add both functionality and customization to glass surfaces for design and user preference.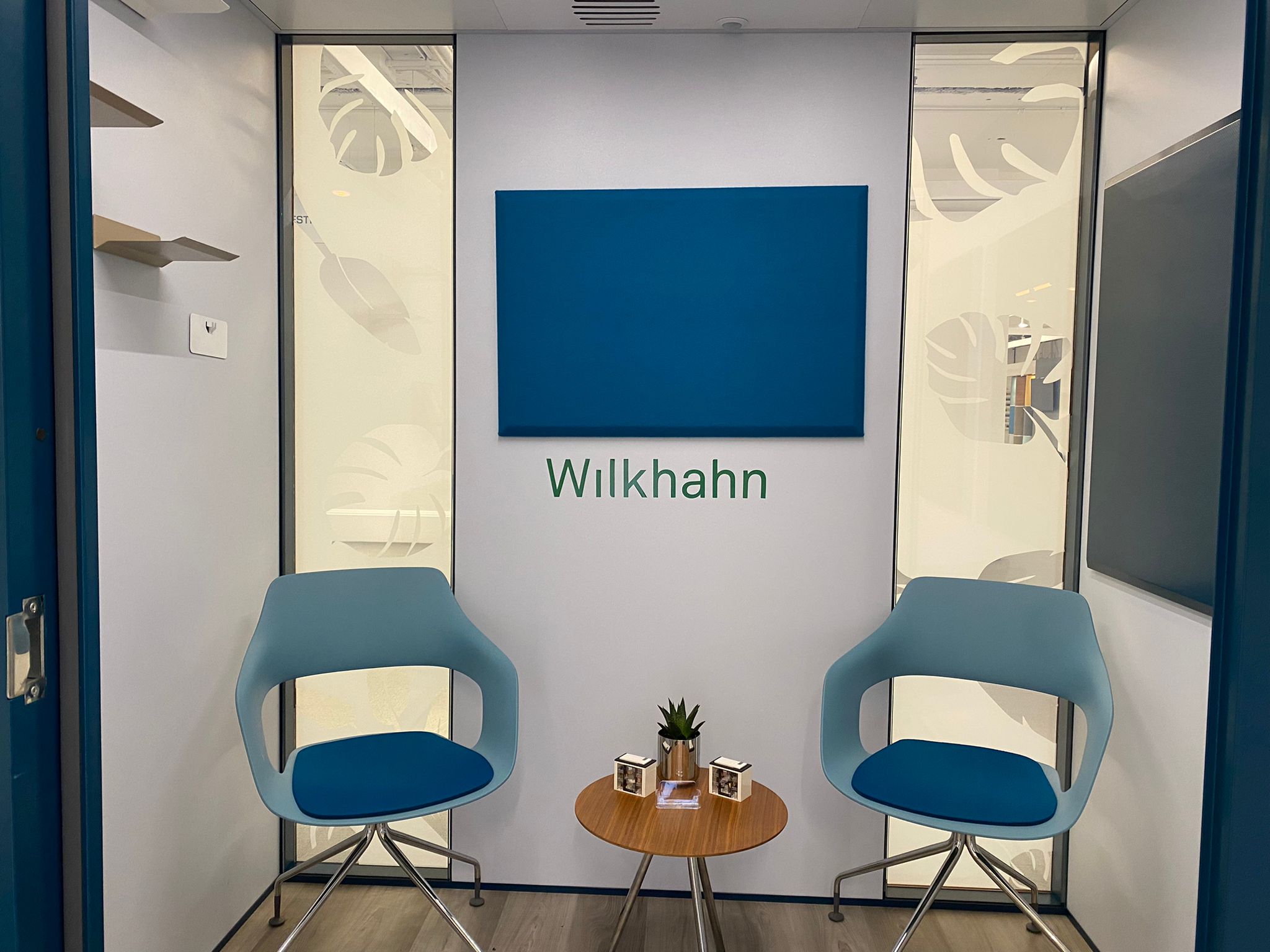 Flexible and modular, Clestra Hauserman's free standing FIZZ BOX Collection Pods for 1-6 people with excellent acoustic performances combined with a supply air system for unequalled working comfort. They can be outfitted with Gauzy patterned or solid smart glass technologies for the most customized pod working experience.
Highly-performant materials for a unique acoustic comfort.
Optimal air renewal for a safe and breathable atmosphere.
Endlessly adaptable and reusable concept for more sustainable environments.
Wide range of finishes, magnetic accessories, smart glass patterns and integrations for customizable workspaces.
Instant privacy or transparency, or a unique patterned inbetween to meet the changing needs of employees.
Projection integration provided by FiveOhm.
Creating fully immersive audio, visual, and lighting experiences,
FiveOHM
offers a full range of production and creative services for commercial spaces such as offices and retail locations. Pairing FiveOHM's content and integration specialties with Gauzy LCG® allows glass windows and partitions to instantly transform from clear to a dynamic display with touch integration for extended glass functionality including information kiosks, presentation surfaces, digital whiteboards, or simple ambiance or branding based visuals.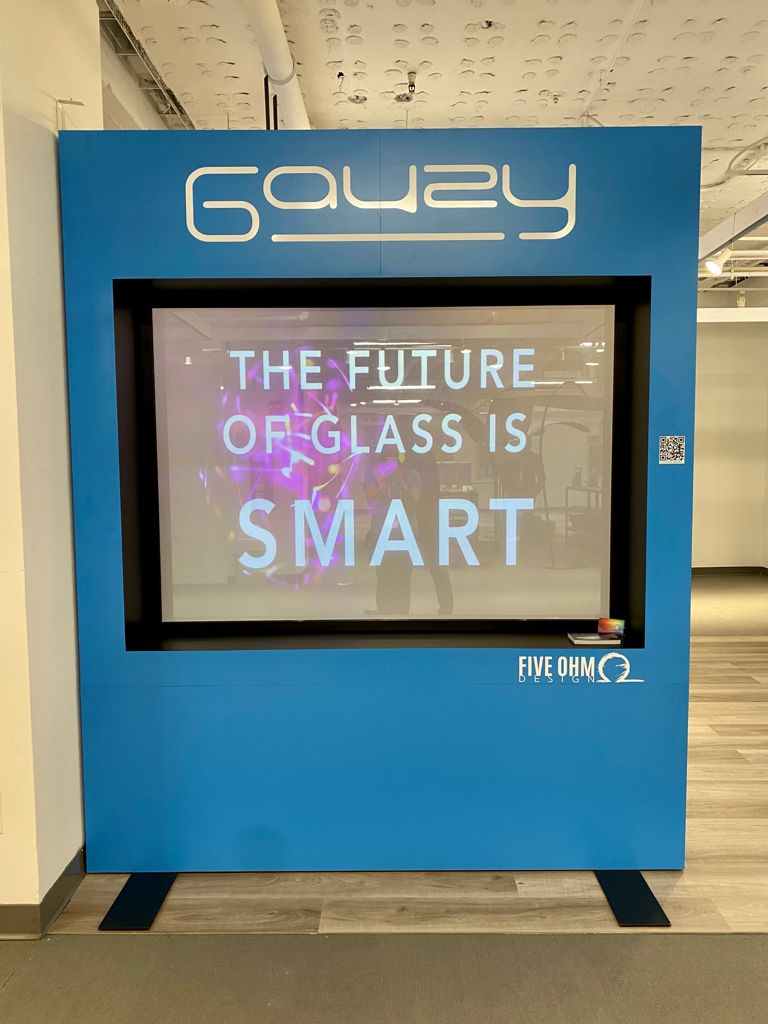 Transparent Digital Display with Touch Integration
Grey laminated LCG® fully integrated with projection, touch technology and a custom UX/UI for a simulated office and retail experience by FiveOHM.
Switching between projection, privacy, or transparency in milliseconds
Fully customizable programs and integration with new or existing smart office systems
Showcasing diverse practical scenarios including games, conference room reservations, and presentation surfaces
HD imagery via ultra short throw projection
Grey Laminated PDLC set in a U-Profile powered by patented Gauzy FLEX DMX Controller
Blocking up to 99% of visible light, SPD instantly tints or dims to create shade with a view for increased connection to the environment, reduced eye strain, optimization of natural light, and an integrated solution with manual or automatic control that is both easy to clean and aesthetic.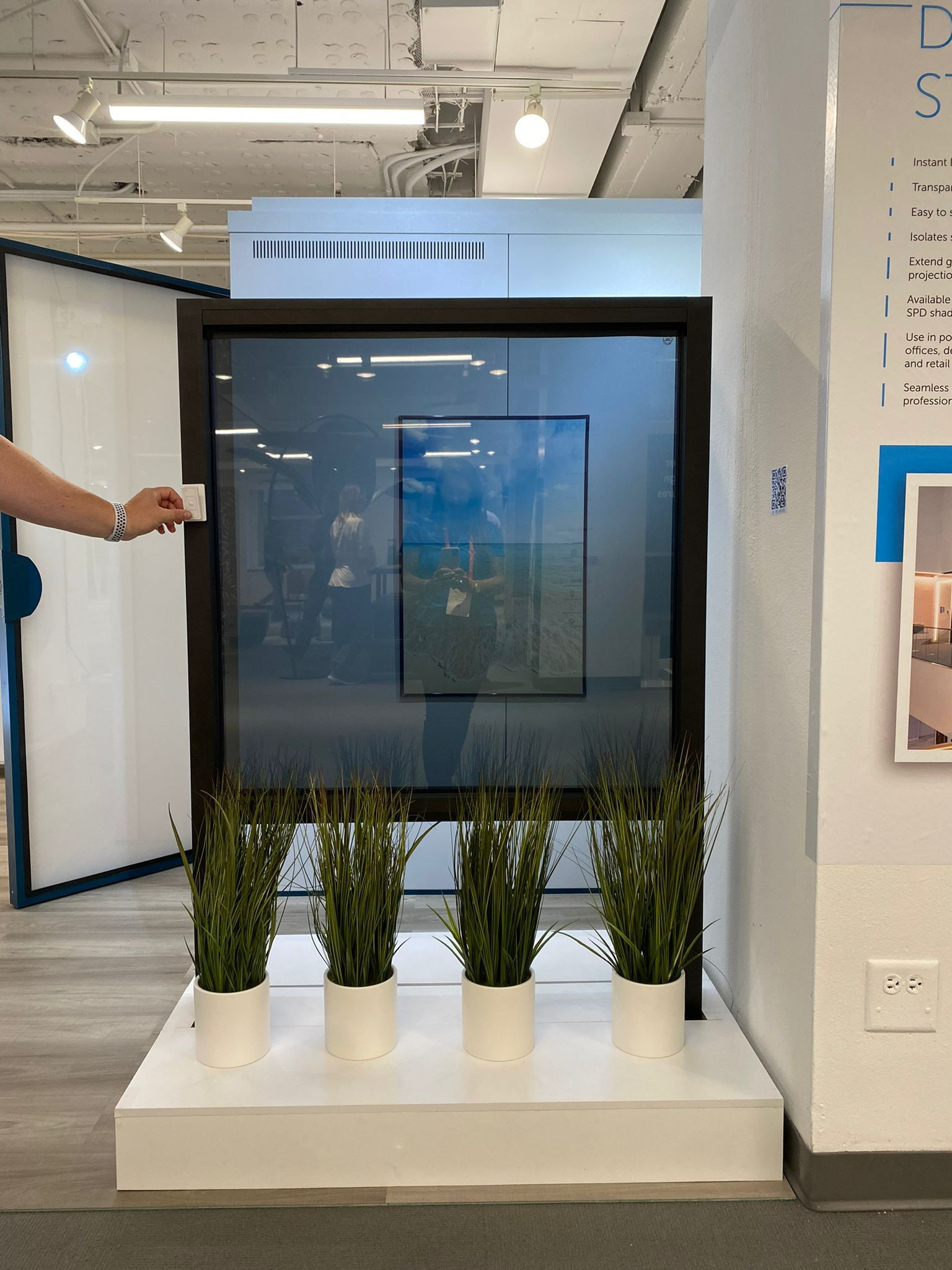 Control: Gauzy SPD Flex Controller with Low Voltage Lutron Pico Remote
On/Off/Dimming
SPD is compatible with IGU and various partition types
Building envelope or light sensitive interior applications
Ability to be synced with smart office systems, automated control programs, or low voltage manual dimmable switches
Experience Gauzy in the Office