Thank you for visiting us at CES Las Vegas 2023
Welcome to Gauzy's immersive experience showcasing how our technologies are revolutionizing vision and light control across industries and shaping the next generation of passenger cars, trains, planes, trucks, and built spaces, Gauzy's products create safe, comfortable, sustainable and interactive environments in the spaces we spend our time most.
Explore the details of the demos below
Thank you to our customers and partners
Just Revealed at CES Las Vegas 2023
BMW i Vision Dee with Gauzy
LCG® Smart Glass Sunroofs
Segmented mechatronic SPD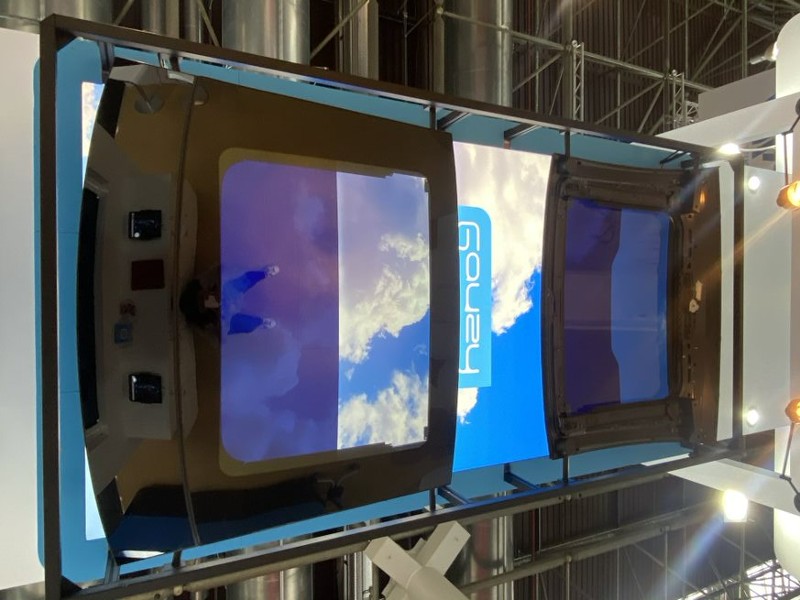 The first fully functioning segmented SPD smart glass sunroof that opens, closes and tilts with complete mechatronic system.
One sunroof positioned concave is to showcase the glass performance, the sunroof positioned convex is to showcase the mechatronic (open/close/tilt) function
Each sunroof shows unique laser-patterned capabilities with straight or curved horizontal lines
Codeveloped and in partnership with BOS
 Features:​
PIN-point Connection for the current transfer in open and tilt positions
Fully operable mechatronic sunroof that opens and closes
Segmented SPD has full functionality in closed or tilt position​
Controlled via standard sunroof switches for serial implementation; showcased with ipads for visual experience
Benefits​:
Increases headspace for more spacious interiors by up to 45mm
Increases DLO (day light opening) by 40mm (Y) to 120mm (X) (depending of structural stability of the glass panel itself)​
Eliminating the standard shading system (Rollo or Shading plate):
Includes standard segmented SPD benefits
Segmented White PDLC & SPD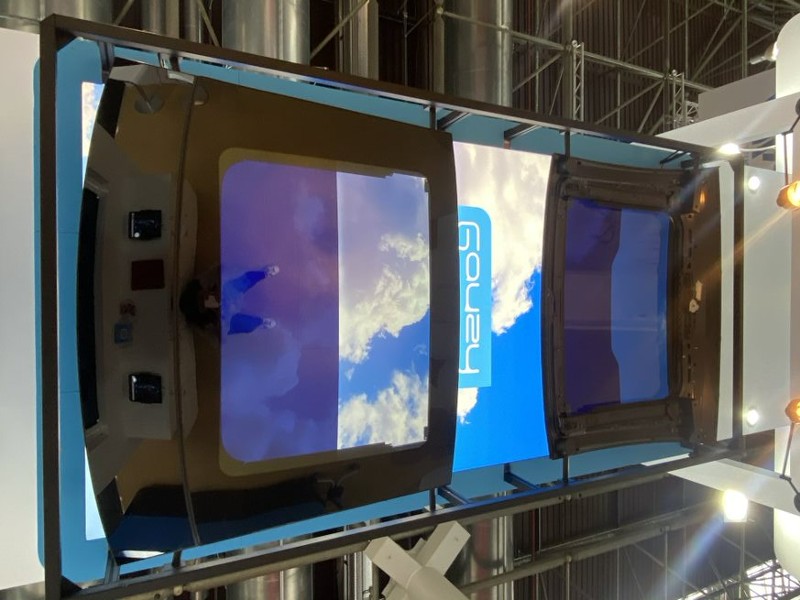 This demo shows the capabilities of SPD and PDLC sunroofs in passenger cars, exhibiting how each technology contributes to dynamic light control. The stationary sunroof represents an entry of this advanced technology into mass-market and mid-level vehicles.
PDLC with 5 segments​
SPD with 5 segments​
Custom control system​
PDLC ideal for light filled yet glare controlled interiors
SPD ideal for dimmable sun-shading
Next Generation Sunvisors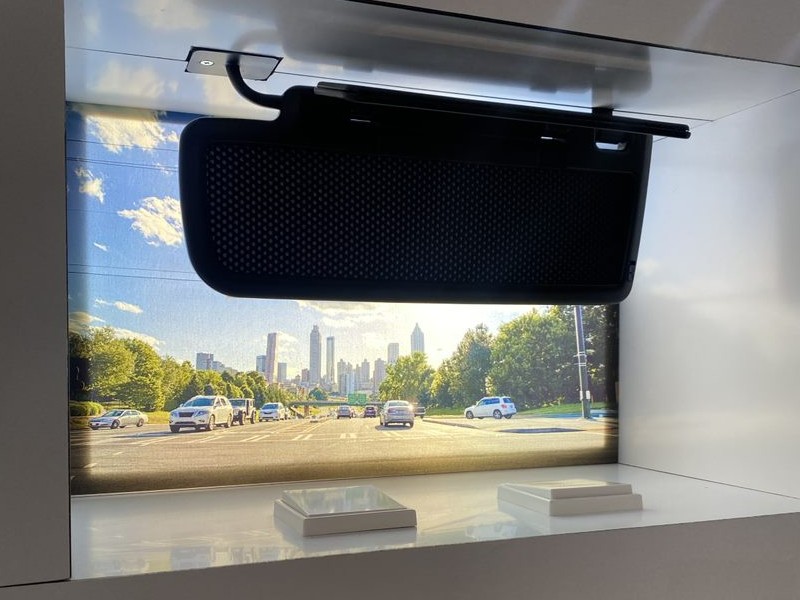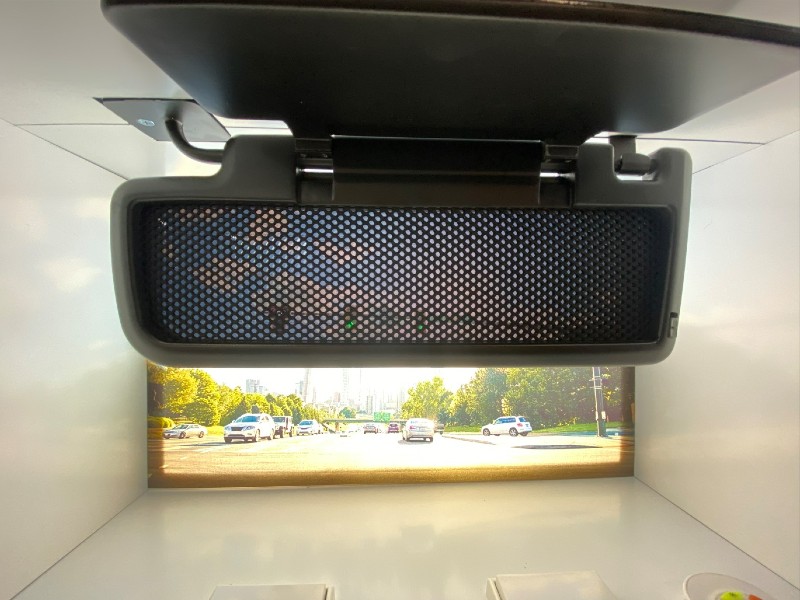 An innovative upgrade to view-blocking solid sun visors, this patented technology by Gauzy and BOS includes PDLC laminated with fabric.  Providing glare and light blocking properties while contributing to safety by increasing visibility when PDLC is transparent, this revolutionary technology sets a precedent for automotive interiors. 
The first ever mixed material PDLC and fabric laminated sunvisor
A 48V PCB is integrated directly into the sunvisor frame and material is controlled with a single button on the frame​
Cables are passed through a single point, enabling typical sunvisor movement and rotation​
When the film is switched to transparent, it is possible to see the traffic ahead despite the textile screen
 Features:​
PDLC and 3D Mesh fabric glazing – innovative new material ​
Flip down mirror​
High-quality textile optics​
Easy to use due to 12VDC interface​
Improved haptics due to 3D effect (soft touch)​
Meets the requirements for head impact
Benefits​:
Replaces solid view blocking sunvisors with a semi-transparent material that provides a wider field of vision while blocking glare from traffic lights, vehicles and the sun
Degrees of light/glare blocking change when sunvisor angled for increased driver comfort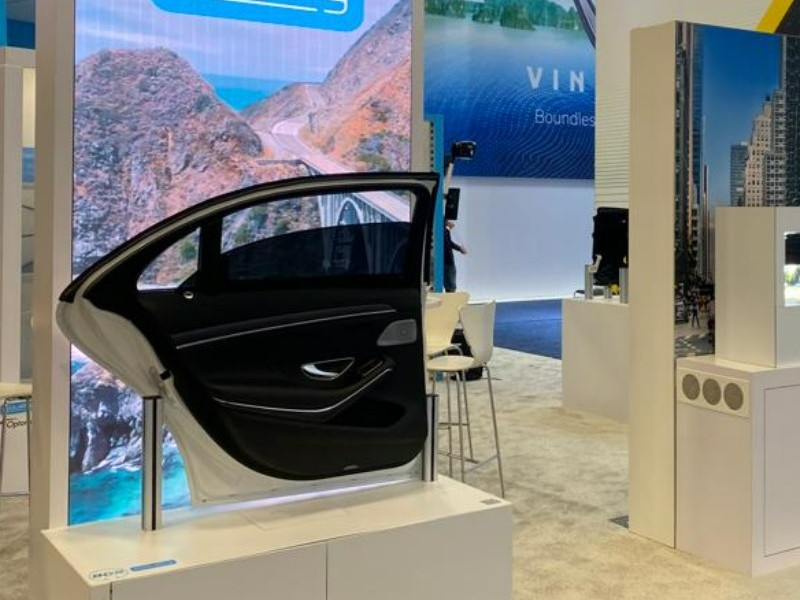 PDLC & Fabric ​Mechatronic System
Codeveloped by Gauzy and BOS. The display side doors are the first time the patented PDLC fabric is used in a passenger side window behind B Pillar. The dual technology system is fully functioning with the window and PDLC each able to be independently controlled.
PDLC fabric allows for privacy, glare reduction and enhanced transparency
Fabric PDLC is embedded into a patented mechatronic system, moving up and down for user preference
Fabrics can be customized to match OEM preferences, supporting unique designs and aesthetics
Grey PDLC side window with projection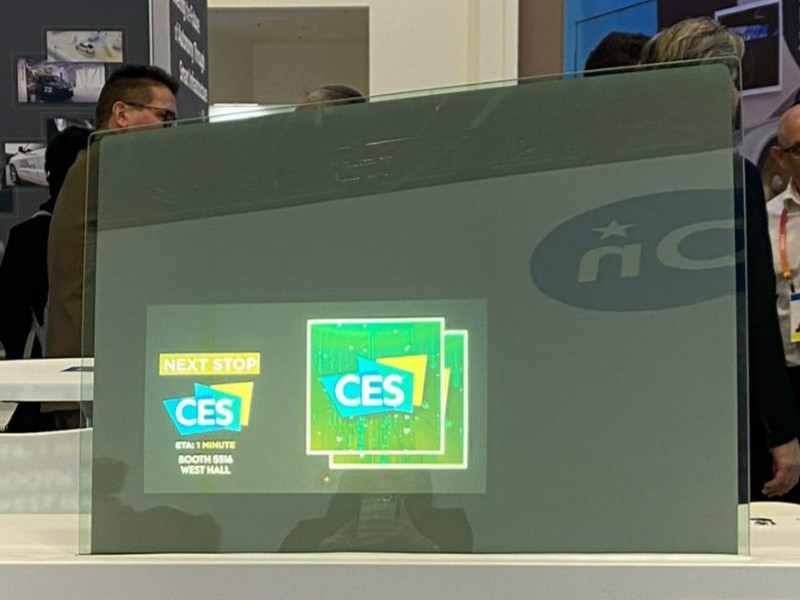 Grey PDLC side window with projection
Automotive grade grey PDLC side windows support private, light filled interiors. When paired with projection, windows instantly transform into dynamic digital displays for time & location based advertising or welcome greetings on personal or shared vehicles.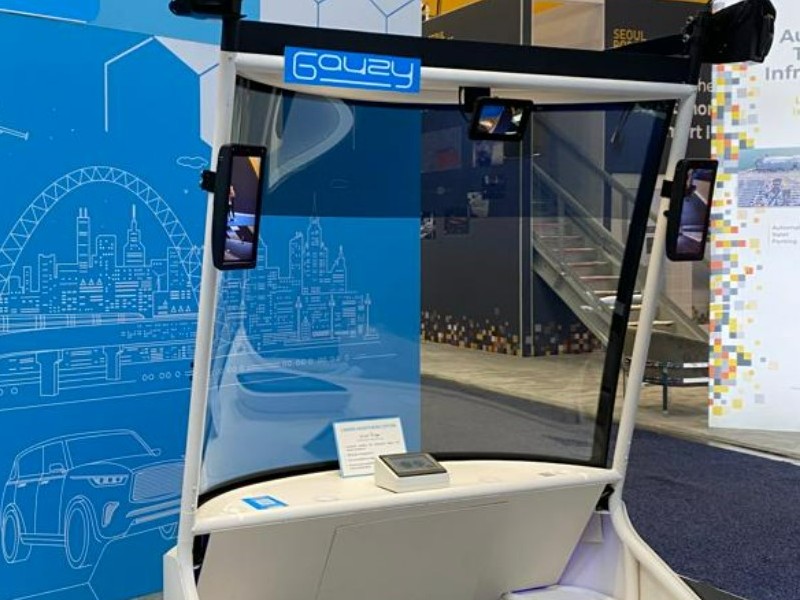 SPD Segmented & Smart Vision with BSIS/MOIS+ ​
This demo showcases our ADAS/CMS on a bus windshield, also applicable to coaches and city trucks. The next generation of this product is adapted for heavy trucks (18-wheels or trucks with trailers)
Segmented SPD sun visor
Camera monitoring system Smart-Vision replaces traditional mirrors on interior and exterior of a vehicle with HD cameras and monitors
BSIS+ Informs the driver of the presence of a vulnerable road users (bicycle, pedestrians, scooters, etc.) who could be endangered so that the driver can stop the bus before crossing their path.
MOIS+ Informs the driver of the presence of a nearby vulnerable road users who could be hidden at the front of the vehicle.
Smart-Vision products are the first of their kind that can be retrofitted to existing vehicles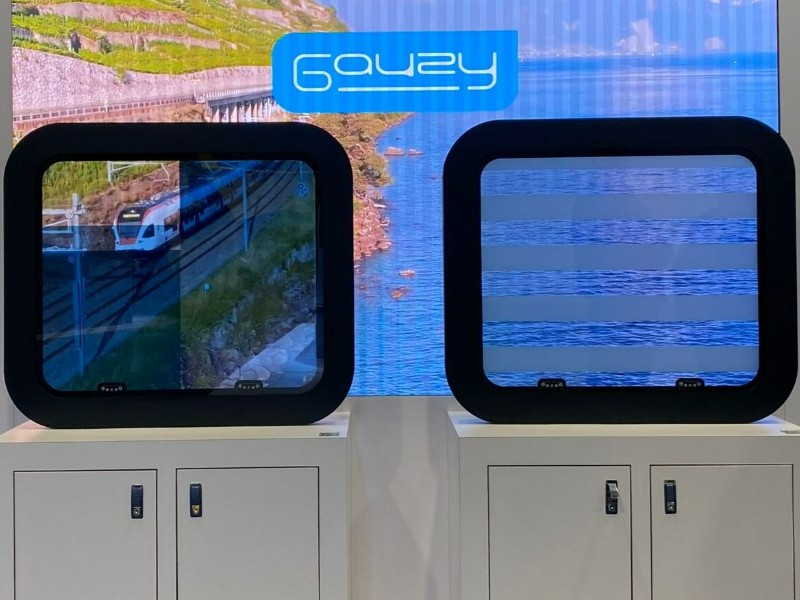 Segmented SPD & Segmented PDLC​
Gauzy's newest railway customer, Talgo, a leading Spain-based train OEM, worked with Gauzy and Star Glass to create an IGU (insulated glass unit) smart glass train passenger window. With multi-zone technology and capacitive touch on glass controls, these SPD and PDLC smart glass windows set a new standard for passenger personalization and comfort in railway travel, and position Talgo as an early adopter of innovative solutions.​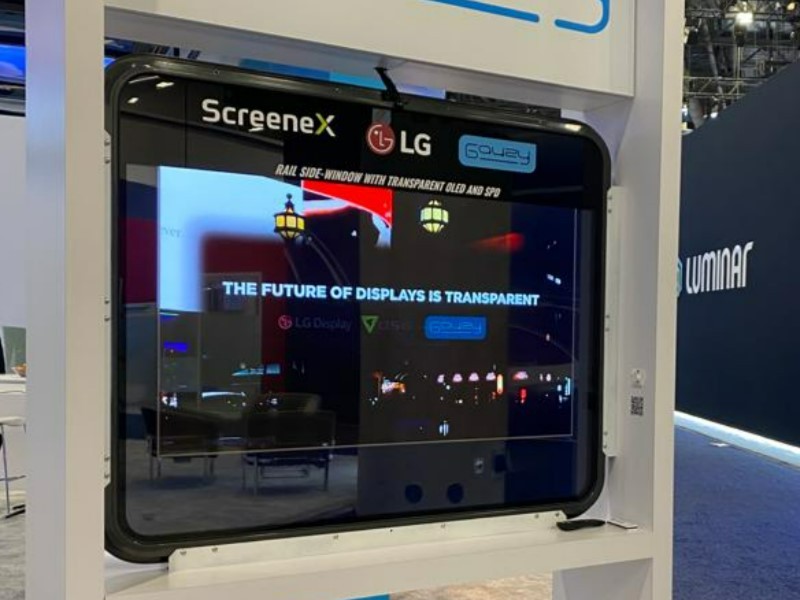 Gauzy's SPD technology laminated with LG Display's T-OLED technology by OSG and compiled into an IGU. This marks the first time Gauzy presents an SPD T-OLED IGU, showcasing the possibilities for the three technologies to be combined in exterior applications for a wide variety of markets. On display is a railway-compliant passenger window with a T-OLED for selective transparency, and a vivid display surface for connected messaging and advertising in varying light conditions with the help of Gauzy SPD.
SPD & PDLC Airplane Window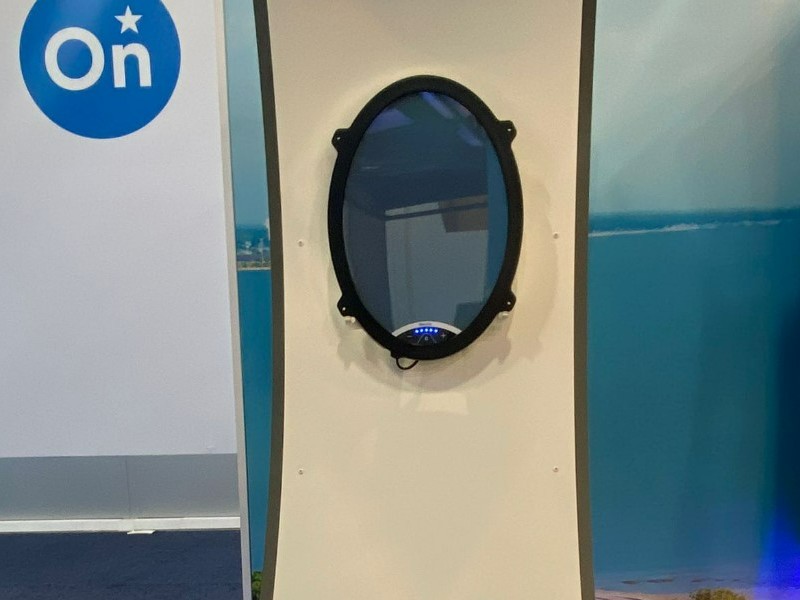 This demo features an airplane window with dual glazed SPD & PDLC technology used to achieve:​
Privacy ​
Precise shading with a view ​
Full blackout (SPD & PDLC off) ​
Control method: embedded controls on frame​
Twin Pleated & SPD Airplane Window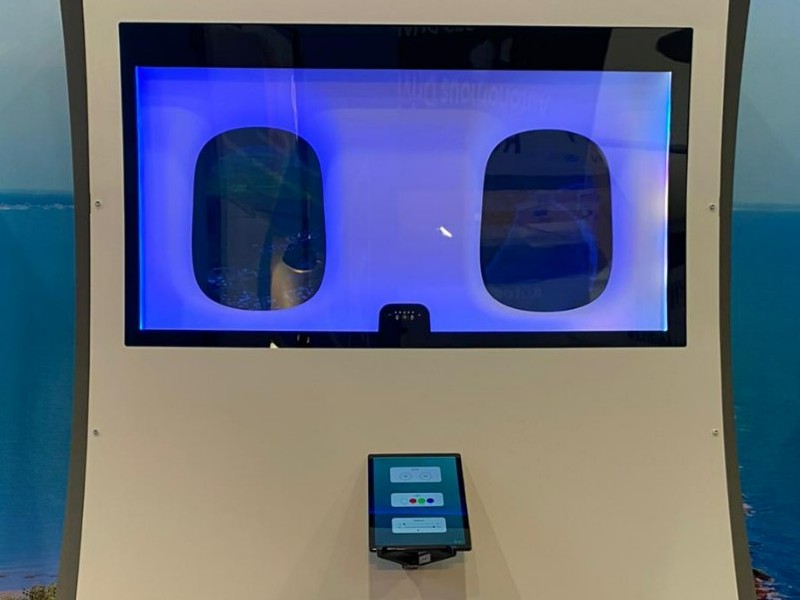 This demo showcases a dual solution incorporating both LCG® and mechatronic traditional shading in a fully in-house manufactured profiling system including mood lighting for:
Precise shading with a view
Light control with LCG and traditional shades
Uniform cabin interior
Control method: on-window touch control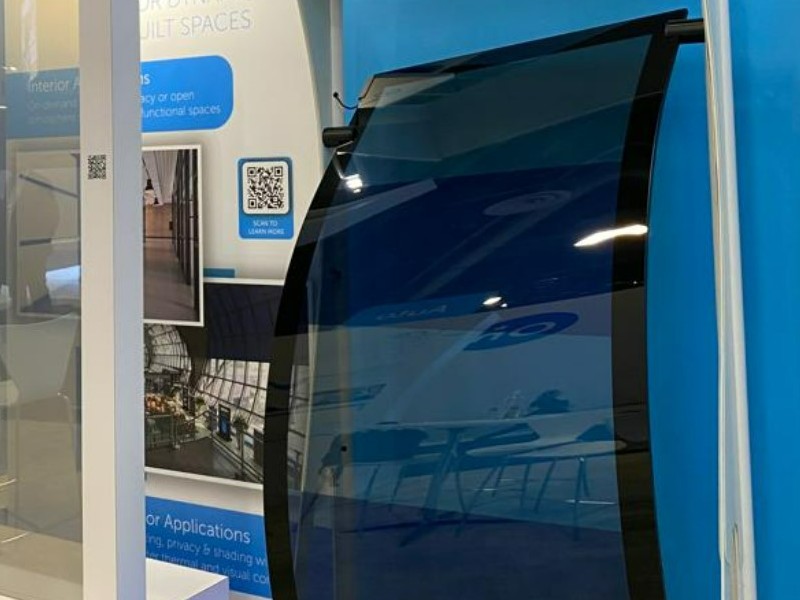 Featuring horizontal straight segments for multizoned light control, this 3-D curved glass shows how SPD can be paired with multi-axis glazing for versatility
Interior Grey and Patterned Partitions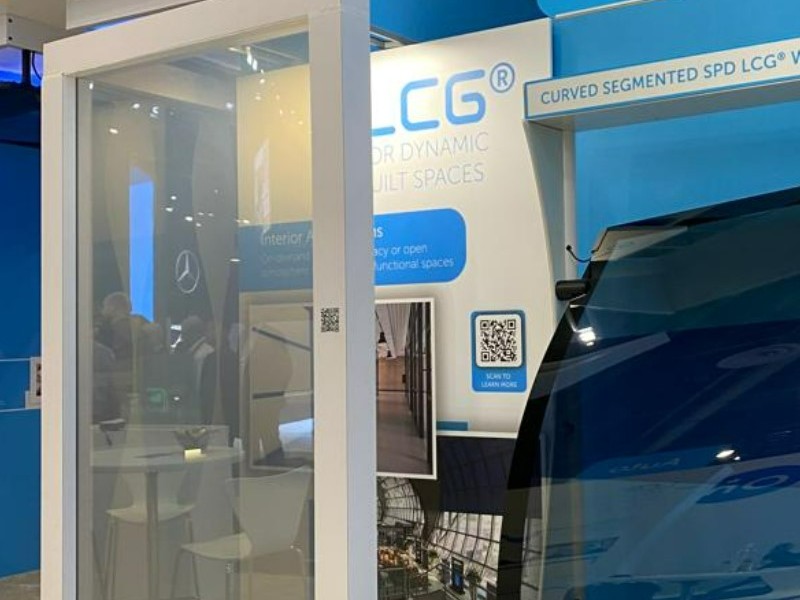 Gauzy's interior grey and patterned white LCG® with PDLC showcases how technologies can be used to create dynamic light filled private interiors, making building materials multifunctional.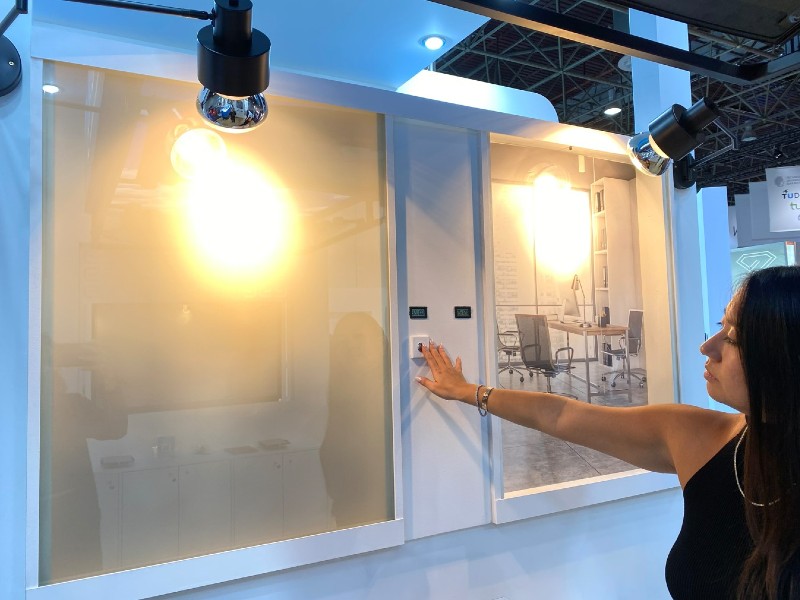 Offering on-demand privacy or transparency with the added benefit of heat reduction Gauzy's Solar Performance LCG ® was experienced in a side-by-side comparison with regular laminated glass, showing a temperature reduction of 12 Degrees C ​ ​