HIGHEST PERFORMANCE. HIGHLY VERSATILE. INTRODUCING HP-LCG®.
Redefining performance standards and versatility for smart glass technology Gauzy's High Performance LCG® (HP-LCG®) features our highest ever optical performance for enhanced clarity, and can be operated at low voltage.
Meeting the aesthetic and functional needs of designers and end users, HP-LCG® provides:
Enhanced Clarity – reduced off-axis haze, allowing for clarity at wider viewing angles. Ideal for large panels and implementation in tight corridors and corners.
World Leading Performance – the lowest haze for a smart glass product of 2.2% with standard voltage (70VAC) and 3.2% with low voltage (42VAC).
More Sustainable – reduces smart glass power consumption by 50%* when operating at 42VAC.
Ultimate Privacy – maximum opaqueness in Off state for trusted privacy conditions.
Simplified Installation, Lower
Costs – low voltage products create a safer working environment. Electricians are only required on site once to connect the controller to the main line.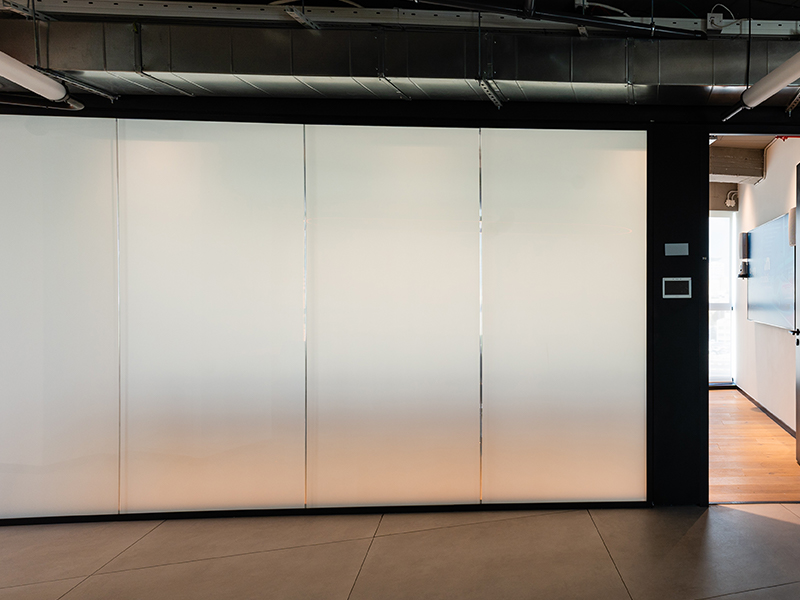 HP-LCG® , Gauzy's interior grade product designed for built spaces, is available now as White Laminated Smart Glass. Other color options and Adhesive Smart Film variations coming soon. To learn more and request the full spec sheet, please enter your details below and a smart glass expert will reach out to you.
Contact a smart glass expert