Cities are the heart of our modern civilization. Constantly on the move, they rely on intricate transportation systems to function efficiently. But as they continue to grow, so do the challenges of managing their infrastructure. The good news is that we are witnessing an exciting transformation in the way entire cities' transportation systems and infrastructure operate thanks to the advent of smart technology.
In this blog, we will delve into fascinating illustrations of how different cities around the world are embracing smart transportation solutions to enhance efficiency, reduce environmental impact, and improve the overall quality of urban life. The use of camera monitor systems (CMS) to replace traditional side view mirrors on public buses is a striking example. This one change encapsulates the larger narrative about how technology is reshaping our urban mobility landscape, making it safer, more sustainable, and remarkably efficient.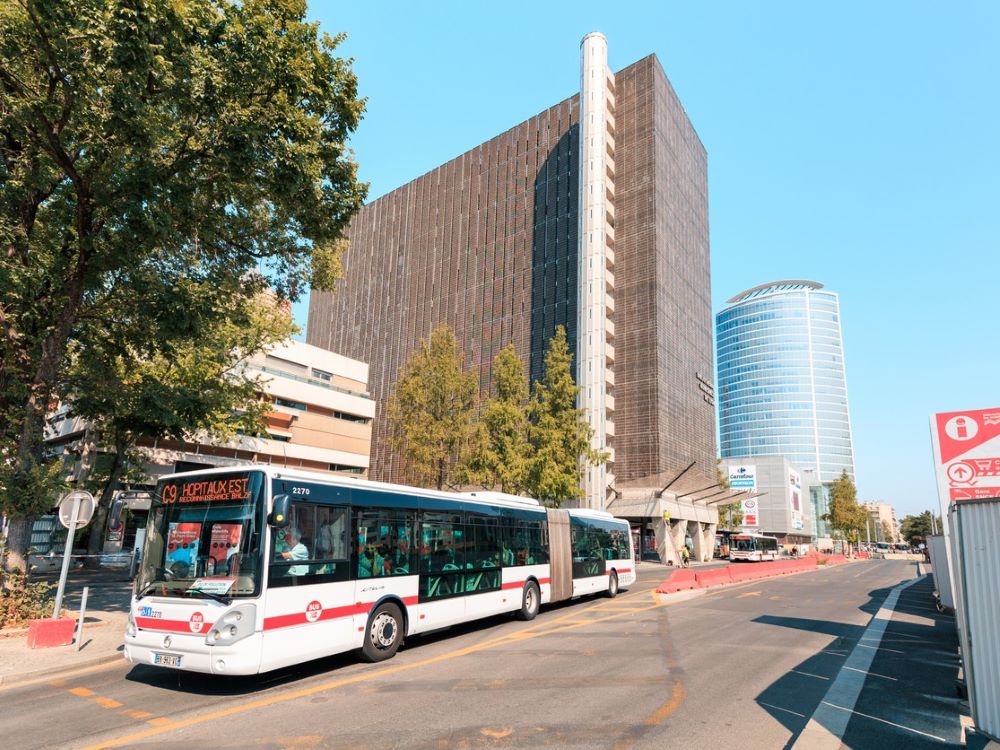 Bus Camera Monitor Systems Stand Out as Stellar Example of Advanced Driver Assistant Systems
A means of indirect vision, a CMS consists of a camera, an image processing pipeline and a monitor for viewing the camera image. It is but one of the many applications of Advanced Driver Assistance Systems (ADAS), a technology that allows for the detection of vehicles, pedestrians and cyclists in the blind spot area, lane departure correction, traffic sign recognition and automatic emergency braking. These lifesaving applications incorporate the latest automated technology such as sensors and cameras to detect everything from driver error to nearby obstacles, and respond accordingly.
CMS replaces traditional bus and automotive side and rearview mirrors with fully integrated high-definition exterior cameras and interior cab displays that eliminate blind spots, reduce driver fatigue, and make maneuvering easier for safer operation. It combines state of the art hardware and real time image analysis that allow operators to drive safely and with confidence.
Let's take a look at three European cities that have successfully integrated bus Camera Monitory Systems incorporating ADAS technology to improve public safety as well as the health of operators.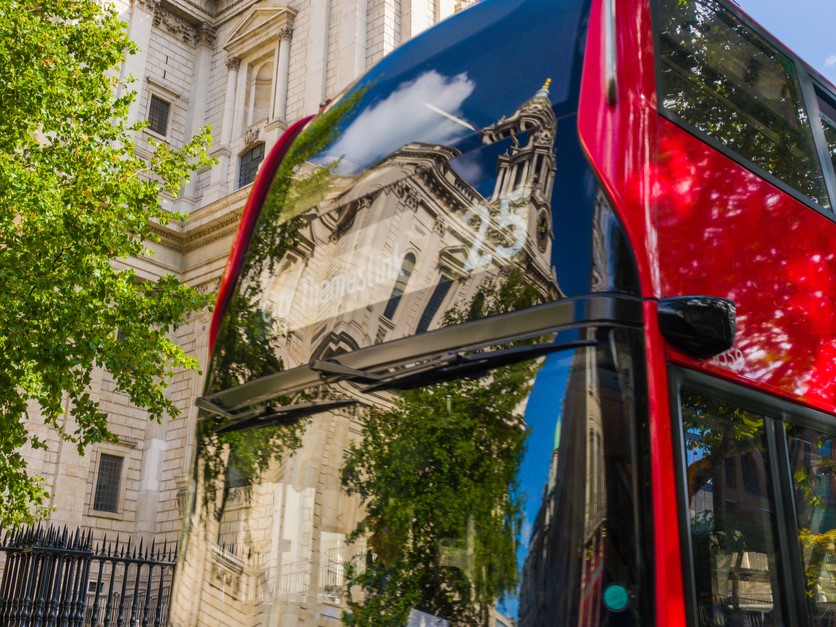 London
London's iconic bus fleet now comes equipped with a camera monitor system on over 1,000 buses, and over 2,300 in the wider UK region. This top-tier solution was implemented in partnership with Journeo, a UK-based company that develops innovative information systems and technology to support smart public transportation. Through the use of digitally monitoring wing mirrors drivers receive enhanced visibility, eliminated blind spots, and minimize the chances of collisions and mishaps involving public buses.
The camera monitoring system is London bus drivers' ultimate companion. Using high-definition digital cameras that automatically adjust for different lighting conditions such as glare, headlights and night driving, its onboard software removes all visual distortion in wet conditions, while heaters keep ice, snow and fog at bay. With critical computing components housed inside the cab, the CMS is compact, reducing the risk of strikes, decreasing drag and improving fuel performance. These features ensure that it is less expensive and more durable; compared to classic mirrors, CMS limit possible breakage linked to collision with tree branches or road signs, reducing the need to repair or replace the part.
According to Richard Harrington, the Engineering Director of Go-Ahead London, the largest bus company in London that operates thousands of the city's buses, "It was the natural progression to use cameras to give drivers further improved vision of their surroundings…Journeo CMS has been positively received by our drivers and performs well and as such currently remains on my vehicle specification."
This project is fulfilled by Gauzy's ADAS division, Safety Tech.
Geneva
Another tantalizing and innovative project took place in Geneva with the collaboration of Gauzy Safety Tech. Based in France with a subsidiary in Montreal, Safety Tech is a division of Gauzy. A world leader in Advanced Driver Assistance Systems (ADAS), the company designs, develops and markets complete and customized solutions in the coach, bus, truck and motorhome markets.
Safety Tech's CMS Smart-Vision is a compact system that replaces mechanical rearview mirrors with high-definition cameras and interior displays to offer optimized visibility and enhanced ergonomics. The camera monitored system covers a larger field of vision than standard rearview mirrors, its interior displays eliminate glare, and the automatic adjustment of the screens' brightness ensures excellent visibility in all lighting conditions. Smart-Vision offers drivers greater driving comfort, reduced fatigue and enhanced safety, while allowing a quick return on investment.
On the Geneva project, which involved 12 Tosa Hess and 56 Van Hool buses, Safety Tech's Smart-Vision system of high-definition cameras and interior displays replaced conventional mirrors, offering the following advantages:
Reduced driver fatigue
Improvement in night driving
Improvement in driving in the rain
Improvement in driving through tunnels
Reduction of maintenance costs, with a savings of 80% on material consumption compared to rearview mirrors
Other benefits included the elimination of glare, wider field of vision, elimination of lateral blind spots, reduction of fuel costs and, ultimately, a significantly reduced number of accidents.
Lyon
Gauzy Safety Tech collaborated with Keolis, the France-based multinational transportation company that operates public transport systems throughout the world, to launch an experiment with new rearview camera devices in the French city of Lyon. The MAIF Foundation provided financial support.
The objective of this bus CMS project was to prioritize safety for all Vulnerable Road Users (VRUs), such as cyclists and two-wheelers, to enhance the driver experience, and to reduce maintenance expenses. The primary focus was on blind spots, which are often caused by poorly adapted rear-view mirrors and are one of the main risk factors in urban settings.
In a preliminary trial, traditional mirrors were replaced with Smart-Vision CMS (composed of cameras and interior screens) offering bus drivers a broader and more complete view of their environment on two screens. Keolis endorsed Gauzy's solution to this problem due to its technical advantages, which include a broader field of view, and the elimination of glare and blind spots.
This experiment also demonstrated that the bus camera monitoring system used improved the health of drivers. This was because of the ergonomics of the screens: the drivers were no longer required to move their heads as frequently to check mirrors, therefore contributing to the reduction of musculoskeletal disorders. The eventual plan is to equip Lyon's entire fleet of 1000 buses with rear vision cameras by 2027.
The integration of CMS into public bus fleets has emerged as a thrilling move towards safer and more efficient urban transportation. As demonstrated by innovative bus camera monitoring system projects in Europe, cities worldwide are embracing this remarkable technology. By reducing blind spots, improving visibility, and enhancing driver comfort, these CMS implementations not only prioritize public safety but also contribute to a more sustainable and ergonomic urban transportation landscape, making a significant stride in the smart transformation of today's cities.
Speak to a CMS Expert Today ​