When Polymer Dispersed Liquid Crystal (PDLC) Switchable Films meet glass, innovation begins. Glass partitions, walls, and windows are no longer static objects — they come alive.
One of the most common technologies used to make Smart Glass, PDLC Switchable Film controls various types of light that passes through glass. It allows glass to switch from opaque (off) to transparent (on), giving end-users the option for privacy or an open atmosphere in the same space at the flick of a switch.
Replacing outdated blinds and curtains, it's a sleek must-have addition for architecture, construction, and interior design projects across a diverse range of industries from offices, to hotels and healthcare.
But just how does PDLC Switchable Film technology work and which is the right type for your project?
There are many different types of PDLC Switchable Films & Smart Glass, and each has its own unique features for a completely customized experience. For instance, some PDLC Smart Glass can be used for temperature control. Other types are optimized to display high quality projections and some can even be customized with invisible patterns. In this guide, you'll learn:
How PDLC works

The benefits of PDLC smart glass

What different types of PDLC smart glass are available

Which type of PDLC smart glass is right for your project

The difference between retrofit and laminated smart glass

How to receive hands-on training and ensure you're using the highest quality of PDLC smart glass in your projects
How PDLC Switchable Films Work
PDLC is an active type of smart glass technology, meaning it needs electricity to turn on and off. When a low voltage is applied (the ON state), liquid crystal (LC) molecules align into a formed manner, allowing light to pass straight through, and making the glass transparent. When electricity is turned off, LC molecules begin to scatter randomly again, breaking the passage of light and turning the glass opaque.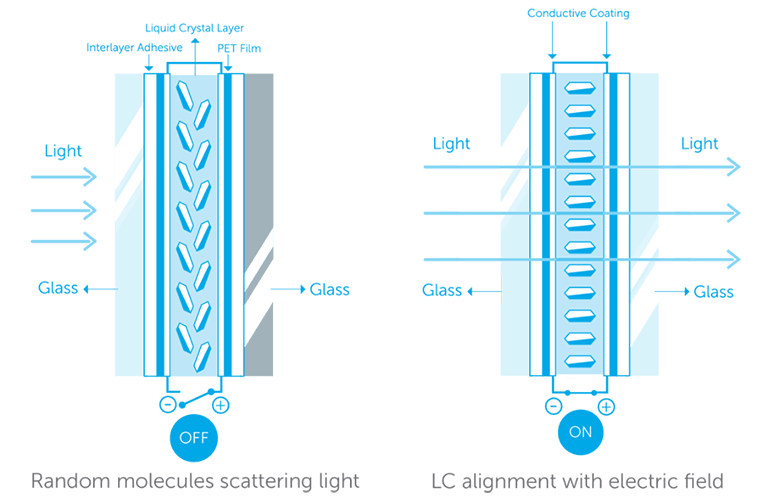 Ready to upgrade your space with PDLC Smart Glass technology?
The Power Behind PDLC Switchable Films
PDLC Switchable Film technologies typically manage power using a transformer which is limited. Transformers need to be turned off for a minimum of four hours per day, and can deteriorate the film over time. Smart film developer and manufacturer Gauzy is the only company with a patented square-wave controller that allows for a continuous charge. With Gauzy's controllers, PDLC smart glass can stay on 24 hours a day. These patented controllers ensure the highest quality optical and mechanical performance with easy integration and installation.
Gauzy's LC controllers are easy to install and energy-efficient — offering up to 40% reduction in power consumption. To support the various uses and configurations of Gauzy's smart glass, they are available in three different options: Mini, Flex, and MultiPlex. Each type operates a different sqm/sqf range. Regardless of the selected type, the controllers utilize square-wave outputs for high transparency and have redundancies in place, protecting the film for long lasting durability and premium performance.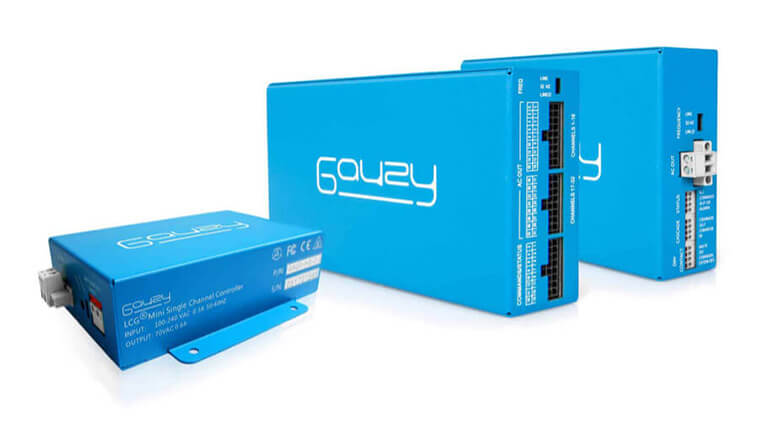 PDLC Switchable Film Variations
PDLC Switchable Film is available in a variety of types (white, colors, projection support, etc), making it an ideal choice for multiple applications across diverse industries. Gauzy develops and manufactures many different PDLC variations and is committed to the research and development of innovative new product lines. We currently offer these PDLC films:
1

White

2

Dark

3

Patterns

4

Vizio

5

High Temp

6

Solar
Which PDLC Do I Need?
Each type of PDLC Smart Glass solution suits a specific architectural requirement or interior design plan. To find out which type of PDLC you need, the first question you'll need to answer is:
Will the glass be indoors or outdoors?

Retrofit Vs. Laminated - What's the difference?
PDLC films can either be laminated into new glass or retrofitted onto existing glass. With laminated PDLC, the film is sealed between two pieces of new glass with PVB, EVA, TPU, STP or UA adhesive interlayers — forming one piece of glass. This process turns the glass into durable switchable privacy glass that can withstand elements such as humidity, excessive cleaning, and high volume use. Laminated PDLC is ideal for new architectural projects or renovations in which existing glass will be replaced. When paired with tempered glass PDLC can add additional layers of safety if glass shatters. Broken pieces will stick to the plastic rather than shattering on the floor. 
On the other hand, retrofit PDLC should be used when glass can't be replaced or in cases where glass needs to be thinner than a double pane. As its name suggests, retrofit glass is applied to existing glass. Gauzy specifically offers retrofit films with both a dry or a wet adhesive for easy installation by professionals on any glass. Both of Gauzy's dry and wet retrofit PDLC films have a scratch-proof protective outer coating to prevent the possibility of damage during installation and for long lasting durability.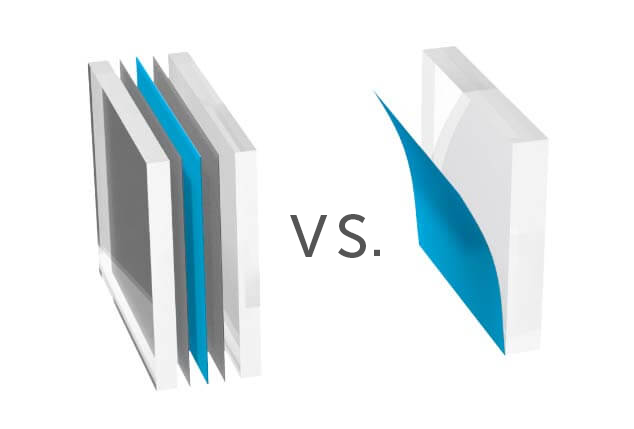 Both laminated and retrofit PDLC films should be handled only by professionals. For laminated PDLC an experienced partition company or glass installer should install the new glass. For retrofit PDLC, the film should be applied by a licensed window film installer. In addition, an electrician will need to connect the laminated or retrofit glass to its power source if it's not a low voltage film.
Whether you're designing a luxury hotel or a new corporate office building, PDLC smart glass will not just enable you to meet specific project requirements but help "WOW" your clients.
Gauzy is a world leading developer and manufacturer of this technology, offering both laminated and retrofit PDLC smart glass options for customized building designs and a variety of creative glass partitioning solutions.
Ready to elevate your project to the next level? Contact Gauzy, the Smart Glass Experts, today.