SOLUTIONS FOR HELICOPTERS
Gauzy's Vision Systems set up in 2015 as a new production unit dedicated to composite parts to respond to the growing need of its customers in terms of composite products integration for the aeronautic, helicopter and marine markets.
Vision Systems' composite expertise in addition to that of mechanics and electronics enables the company to control the product development from beginning to end and to offer complete functional systems with breakthrough features. Complete window and door solutions for helicopters are part of Vision Systems' products made of composite.
COMPOSITE PROCESSES INCLUDE:
Resin Transfer Molding (RTM) for cyclic sticks, window and sun visors stiffeners
Thermocompression for sun visors' casings, window frames
Infusion for very large window frame
Prepreg autoclave molding for sun visors' casings
COMPOSITE, PROCESS FOR FABRICATION OF HIGH-TECH COMPONENTS:
Weight saving
Excellent fatigue and corrosion resistance
Increased damage tolerance
High technical precision
Improved damping for lower noise and vibration
Reduced parts count achieved through single piece moulding, and lower operational costs
Vision Systems' genuine expertise in solar protection places it today among the world leaders in this area for the aeronautic, land transport, special vehicle and marine markets. The range comprises solutions both for passengers and drivers, including roller and pleated shades, driver blinds and cockpit sun visors, and new generation Electronically Dimmable Windows : SPD Nuance, with possible additional privacy.
SPD NUANCE DIMMABLE WINDOWS: IMPROVING VISUAL AND THERMAL COMFORT
Variable shading from clear to dark to control daylight, glare and heat while preserving the view
Instant silent response time for a peaceful atmosphere
Automatic dimming to the darkest setting when parked, heat rejection and UV blockage, for cooler interior and reduction of air conditioning consumption
Automatic, centralized or individual control through touch panel or personal device
Integrated electronics for low maintenance
Weight saving for greater fuel efficiency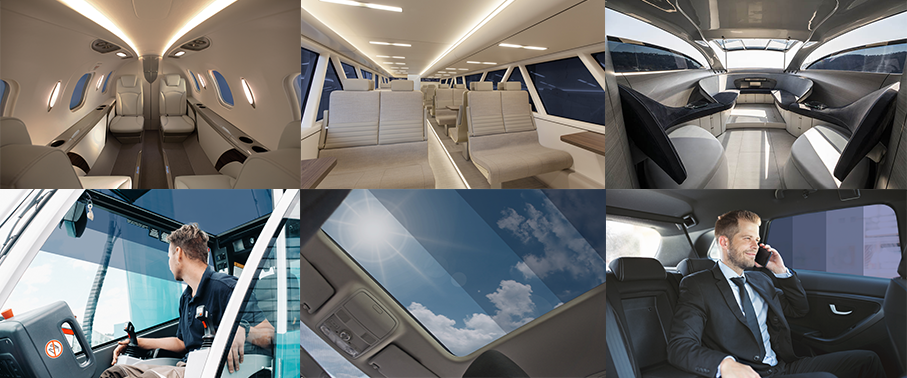 NUANCE ECO-SMART, PHOTOVOLTAIC DIMMABLE HATCH
Nuance Eco-Smart is the world first self-powered dimmable deck hatch with photovoltaic cells integrated onto the hatch frame, allowing to harvest solar energy in a battery in order to enable the solution to operate, totally independently of the boat electrical system.
The system is easily controlled either thanks to a touch panel directly on the window, remotely from a PED, or automatically with additional sensors (light, temperature).
This innovative solution allows low maintenance as well as elegance and modernity.
Nuance Eco-Smart is also applicable for windows or glass doors in other market segments.
COMFORT-SHADE, COMPLETE CUSTOMIZED MOTORIZED SHADING SYSTEM FOR PASSENGERS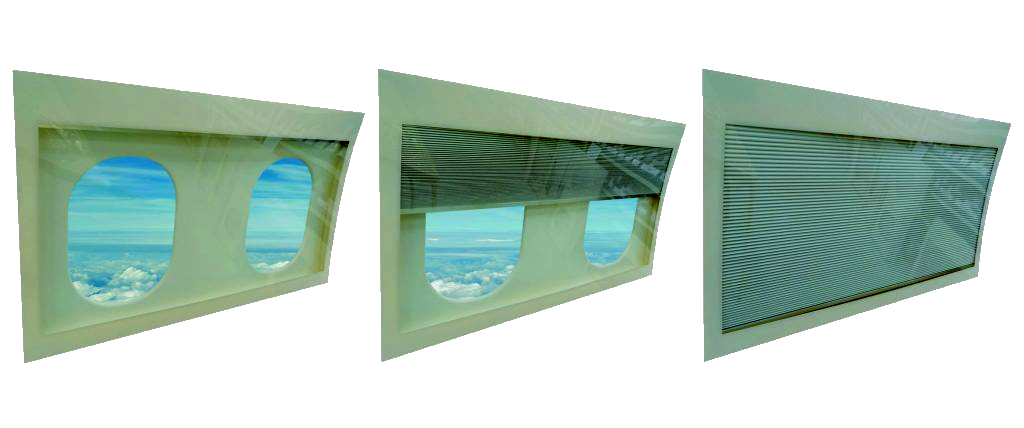 Smooth or pleated fabrics
Single or double screen
Quick, silent and fluid motion
Full black-out
No ray of light on the sides
Synchronization system
High quality finish
LEADER IN COCKPIT SOLAR PROTECTION
Roller-blinds with high-tech film or fabric
Bespoke sun-visors with SPD Nuance dimmable option
SPD Nuance Dimmable add-on solution for side windows (Smart-Shell)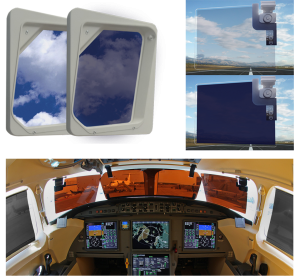 SHADING SYSTEM APPLICATIONS
CUSTOMIZING PASSENGER EXPERIENCE
In a plane, train or boat, personalize the environment of each passenger!
Depending on the chosen ambiance or specific moment of the journey, Vision Systems' ambiance management system generates the right atmosphere to offer each passenger a unique experience. Through a tablet or control panel, the traveler can select a "mood", such as reading, sleeping or waking up, leading to the automatic synchronization of the shade, the dimmable windows and the lighting to create the perfect adequacy between the selected mood and the lighting atmosphere.
Each of Vision Systems shading systems can be controlled separately, or simultaneously through the ambiance management system. Developed in-house based on Vision Systems know-how in cabin management systems, the solution can integrate other elements of the cabin ambiance (image, sound, temperature) with individual or crew control.
ACTI-VISION, SMART GLASS DISPLAY
Transform your divider into a smart display!
Projection on this smart glass partition showing messages, images or videos such as traveling information or advertising.
When nothing is displayed, this divider can remain transparent, or opaque (white or dark) to offer privacy between classes.
The crew can easily control the display system and the opacity level directly from the flight attendant panel.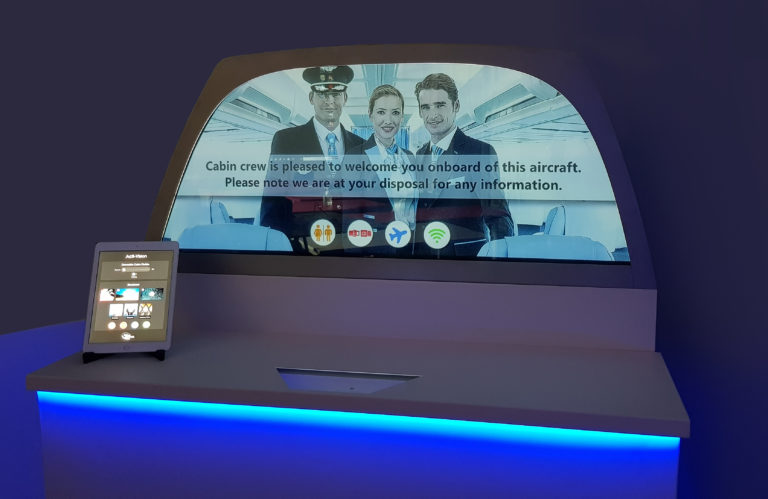 Visit the Vision Systems website for more information, news and career opportunities.