A James Bond-like technology is now available in luxury cars, and is expected to quickly spread to the general automotive market. Smart glass, also known as switchable glass or LCG® (light control glass), allows windows to dim or tint from transparent to opaque in response to electricity (active) or elements like temperature (passive). Smart glass windows with active smart glass utilize switchable films made from SPD (tints for shade) and PDLC (privacy, projection, solar control). Automotive glass technologies are already in luxury vehicles like the Mercedes S-Class and McClaren, but will soon be a widely adopted standard available in serial production.
Smart glass for cars can be located in a number of places within the interior and exterior of a vehicle, providing different functions. These are the top four places that you might experience smart glass in your next car:
1. Instantly Tint Car Windows At The Touch Of A Button
Traditional sun shading is supported by sun visors in the front seat, spider nets that cover the back seats and rear windshield, and a retractable shade over the sunroof or moonroof overhead. While these extra materials provide shade when needed, they also reduce space, block views and increase weight. Moreso, they disrupt the sleek and futuristic styles of cars today. SPD blocks 99% of light, tinting car windows instantly while maintaining just enough transparency to enjoy the view on the road.
2. Make Your Ride Safer With Car Privacy Glass
Vehicle privacy glass typically refers to a car window tint shade or film. PDLC, or switchable privacy glass with Liquid Crystal technology, allows windows to be completely opaque for privacy, while reflecting solar heat when using specially optimized IR films. Automotive armoured glass is highly efficient for security vehicles, when an extra layer of protection is required.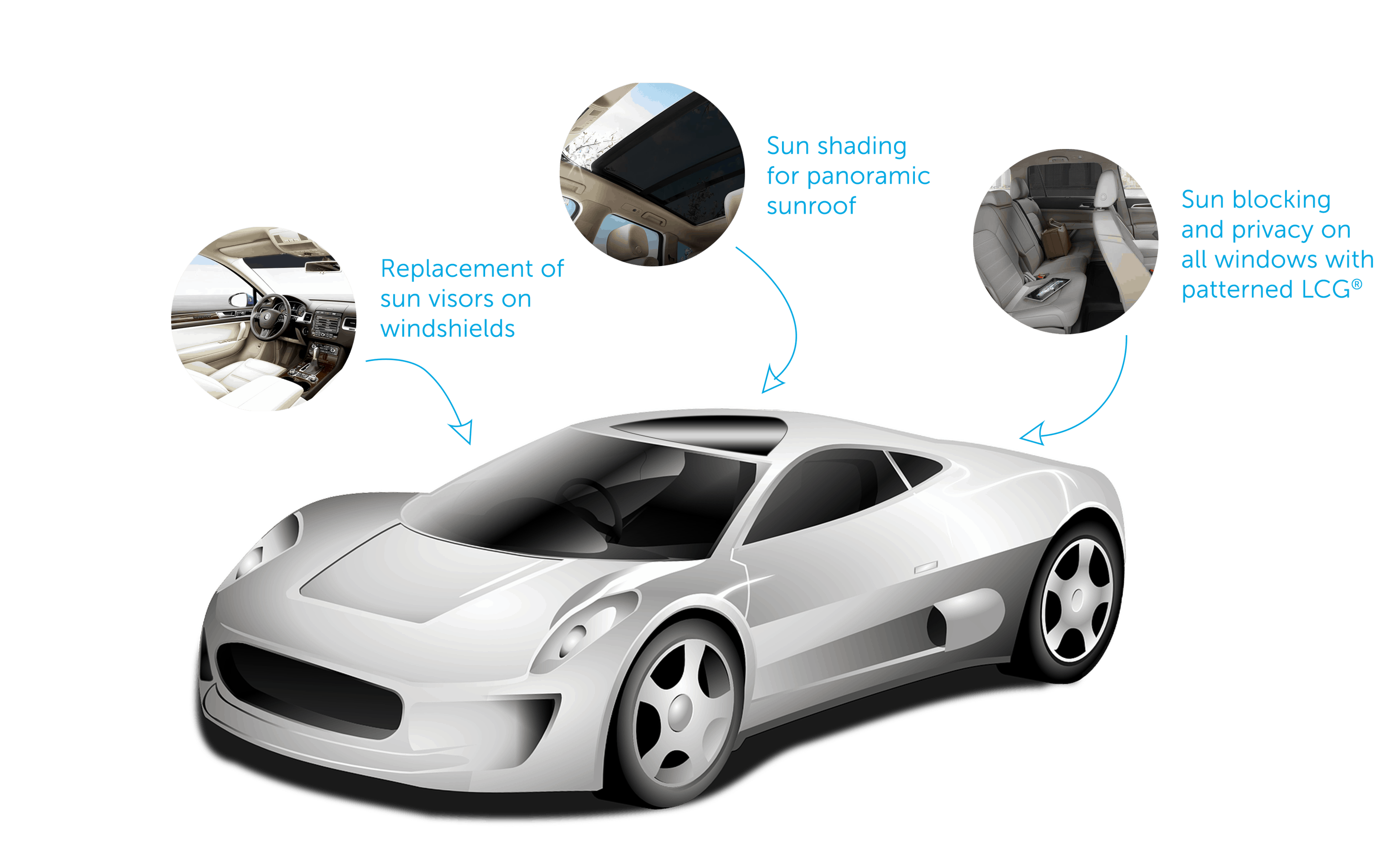 3. Turn Car Windows Into Dynamic Advertising Surfaces
Dynamic video and image variation is attention grabbing and depicts a message more likely to connect with buyers. Liquid Crystal smart glass allows windows to turn from transparent to opaque. When opaque, windows act as an HD projection surface that can be used to display time and location based ads, content, or even safety messages – all while allowing windows to be clear and drive ready at any second.

4. In-Vehicle Entertainment Enhances The Driver And Passenger Experience
As cars begin the transition towards autonomy, the experience we have inside cars will change drastically. Instead of being focused on the road or simply listening to music, both drivers and passengers will have time to experience the inside of a vehicle more, and differently. Digital displays, screens, and interactive surfaces can benefit from switchable smart glass when paired with projection to give you a 5-star in-vehicle entertainment experience.
Smart Glass – What Your Automotive Is Missing
Luckily, you don't need to visit Q's secret lab to get access to smart glass technology. The nanotechnology used to create smart glass films is complex and developed by material science companies, who are quickly finding a niche for LCG® (light control glass) in the automotive sector. What is now only in luxury vehicles, or seen in concept cars at exhibitions, will soon become a standard and premier choice for solar control in serial production of moderately priced models.
Are you an OEM or Tier One supplier looking to integrate LCG Smart Glass into a future model? Contact Gauzy, the leading choice for automotive-grade films for serial production, today to learn more.