Smart glass has become an effective and ideal solution for privacy, sectioning, projection, and for sanitary and comfort benefits that create a spacious environment. Many of today's organizations have taken the steps to blend their setting with this innovative solution that leverages advanced interior design.
LCG® Move, a portable smart glass solution, offers a broad range of benefits, when it comes to presentations, exhibitions, conferences, show rooms, offices and vibrant events. Discover the advantages and versatility this mobile and innovative product has to offer.  
Professional Presentations: Projection, Dynamic Displays, Style and Mobility
LCG® Move can be used as a sleek whiteboard solution – when opaque – for brainstorming and presenting ideas. It can also convert into a projection screen with HD imaging and 180-degree view. Superimpose projected images on writing and drawings, while awing audiences as glass goes transparent with the touch of a button. Project dynamic videos, conference calls, presentations, and engage your audience with the ultimate technology for an unforgettable demonstration – and easily nest it back into your work environment for a stress-free and quick storage.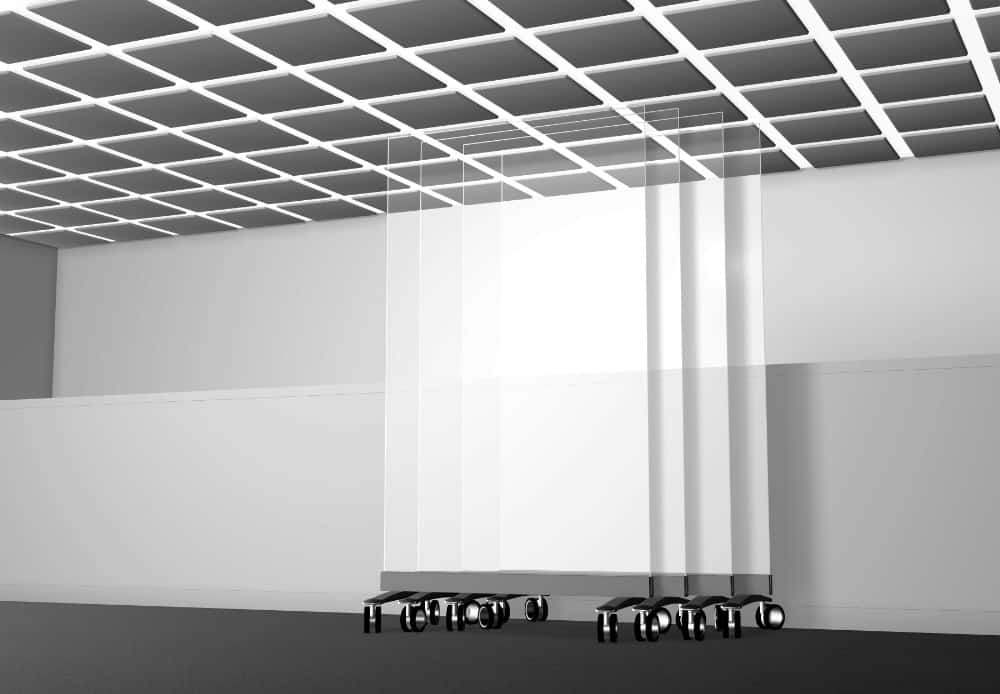 Privacy Partitions: Sectioning your Space with Smart Glass
Corporate environments, businesses and shared work-spaces sometimes require a little privacy for individuals or even teams. Personalize your space without having to commit to permanent installation of partitions or walls that take up unnecessary space. With a sleek one-touch transition to opaque, LCG® Move turns into the ideal privacy solution. Along with providing the flexibility to move, stack and store with ease, these versatile privacy partitions can be perfect for growing businesses, transitions between relocation, and discretion as needed, while turning transparent on-demand. Heading to a tradeshow or conference? Use LCG® Move for projections of demos, videos and section your display space while standing out amongst competitors.
Hospitals & Healthcare Facilities: A Modern Alternative for Privacy and Health
Patients no longer need to dread hygienic or privacy concerns that come with fabric curtains, while healthcare facilities can minimize overhead costs and eliminate costly sanitary maintenance. LCG® Move provides hospitals and healthcare facilities with a hypoallergenic, easy to maintain and mobile alternative for patient privacy. With its elegance and innovation, LCG® Move also advances design, promoting a clean, sleek and spacious look with the convenience of mobility.
LCG® can help you upgrade any shared space in different industries without commitment while allowing you to create, share and present without compromising the feel of an open atmosphere.