Smart glass can solve some of the biggest challenges when it comes to space, privacy and hygiene in almost any setting. In this series of articles, we look at the many different ways architects and interior designers work with smart glass. Last time, we looked at smart glass whiteboards. This time, we explore how this game-changing technology can benefit healthcare design and facility management.
Are you currently designing or specifying for a new healthcare facility (ground up or renovation), or are you part of facility management looking for solutions to propose for your sites privacy, sterility, and operational challenges? Read more.
LCG® smart glass provides a high-tech, sophisticated, and sterile privacy solution for patients and staff alike. There are innumerable hospital and health care facility settings in which privacy glass can enhance the experience for patients and their visitors, create a better work environment for staff, and save valuable resources on cleaning and maintenance costs, all while reducing the spread of germs.
Smart Glass Hospital Partitions and Patient Rooms
Smart glass is used in hospitals and health care facilities around the world, offering easy to sterilize privacy solutions that reduce overhead recurring costs while prioritizing staff and patient needs. Perfect for use as a replacement for privacy curtains on glass partitions, windows and doors (which harbour infectious germs that cause HAIs) smart glass also creates a minimal look and feel associated with sterile facilities. Its use is becoming more prevalent because of its many benefits, including:
ability to provide total light filled privacy both visually and acoustically
easy to sterilize and align with cleaning protocols
contribution to patient well-being, providing access to light and reduced outside noise, especially important in providing limited disturbance during patient monitoring
meets strict visibility standards
high-tech upgrade with aesthetic appeal that both staff and patients appreciate
Control via motion activated sensors, centralized system, remote, or wall mounted touch panels
ICUs and Operating Rooms
Smart Glass helps hospitals maintain maximum sterility in the ICU/NICU and operating rooms. Its easy-to-clean surface provides complete privacy during surgery and treatments, turning transparent when needed. And it enables doctors and nurses to centrally monitor their patients and conduct exams in complete privacy. Privacy glass in operating rooms helps enhance the patient experience: they can enter in complete privacy, without external distractions or unnecessary stress. Once the patient is sedated, the glass can be switched to clear so that the surgeons, doctors and attending nurses and technicians can communicate.
Movable or Sliding Partitions
Movable privacy partitions allow a space to be instantly reconfigured, especially when portable partitions on wheels are used or sliding partitioning systems. They also allow for complete patient privacy. In addition, the COVID-19 pandemic has shed a light on the need for infrastructure-based measures that support infection control in order to create a healthy environment, a critical consideration in health care design and interior architecture. Glass partitions and dividers are an excellent solution because they allow access to natural light without compromising sterility and making boundaries more fluid and adaptable to changing spatial needs.
Single Patient Rooms
Evidence based design (EBD) and medical studies show that a patient's well-being and recovery process is directly related to healing architecture, and faster recovery is hinged on:
1. Single or private patient rooms
2. Reduced noise
3. Exposure to natural light
The use of privacy glass allows staff to check on patients without having to enter the room by simply changing a door from opaque to transparent with the touch of a button since smart glass is glass that turns opaque. They can also monitor patients without entering. Staff can also change the privacy glass instantly from a nurse's control station, offering a practical and unique privacy solution which allows patients and their family to enjoy the benefits of privacy, while giving staff the option to monitor them quickly. In the event of an emergency, the glass can be switched to clear to allow complete visibility. Access to natural light can also be maintained while the glass is in private mode, meaning both patients and hospital staff can enjoy the benefits of natural light even when privacy is required.
Shared Patient Rooms
The use of privacy glass creates a dynamic sense of privacy in large, shared patient rooms with an aesthetic and sterile divider. Unlike curtains, smart glass creates true privacy, eliminating sound from nearby patients and providing clear barriers, creating a sense of calm for patients and their families (and offering doctors and staff more privacy during procedures and delicate discussions). In shared rooms, having a private space to recover reduces stress, allows for better rest and supports a sense of dignity. The use of glass partitions in wards helps to section off spaces and create private rooms, but also leaves the option for a transparent window to easily check on patients when the time arises.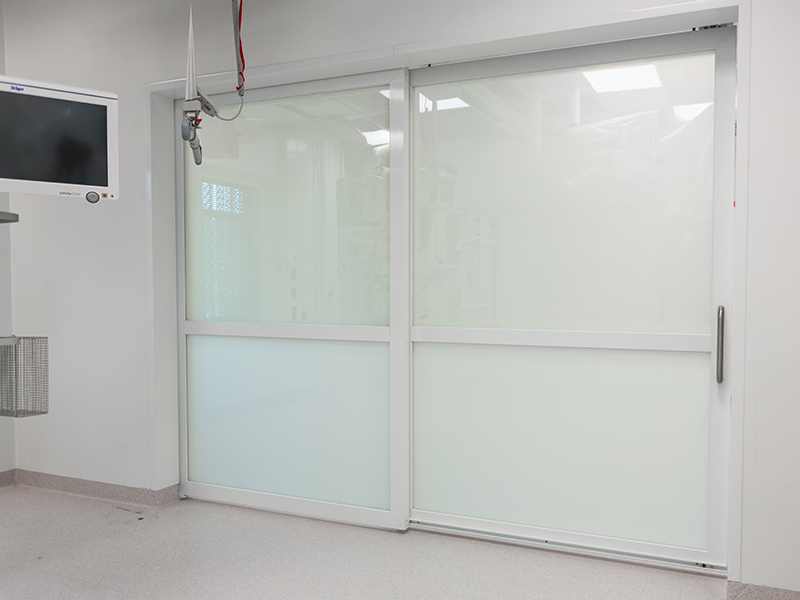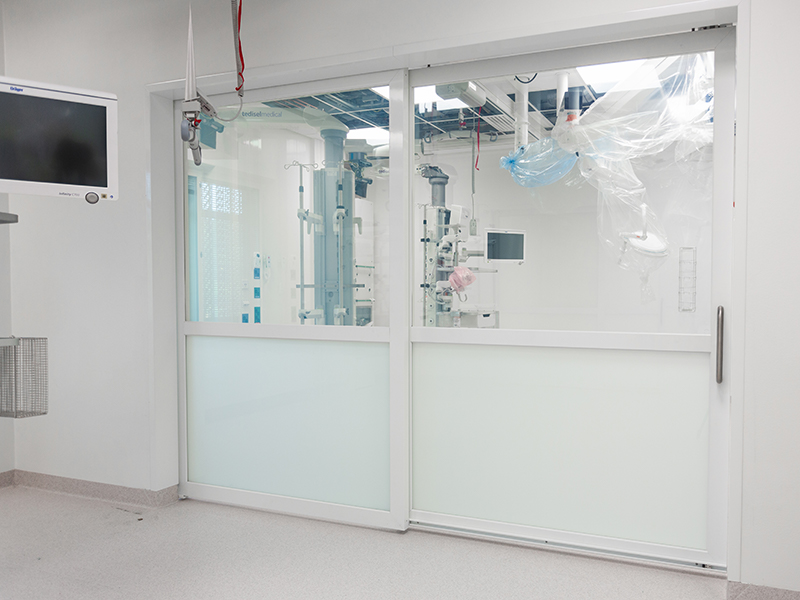 Project Highlight: KSSHP Hospital Nova, Finland
This project features White LCG® Switchable Glass throughout operating and conference rooms, eliminating the need for fabric curtains that harbor bacteria while still allowing the flexibility for privacy. Paired with a custom motion sensor sliding door system, staff is able to limit the amount of touchable surfaces for sterility and streamlined cleaning protocols. Ultra low haze and fast switching times allow for maximum transparency for high two way visibility and instant privacy. Explore KSSHP Hospital Nova
When used in healthcare environments, smart glass not only provides functionality, but it has the potential to enhance patient recovery and wellbeing. Decision makers in this space are increasingly turning to smart glass as the next frontier in privacy and design. The same goes for applications in the retail industry. Keep reading the next article in the series to learn about how smart glass is transforming retail shop windows and in-store advertising.
Ready to upgrade your healthcare facility?
Want to learn more about Smart Glass or receive a quote? Contact the Smart Glass experts at Gauzy today.