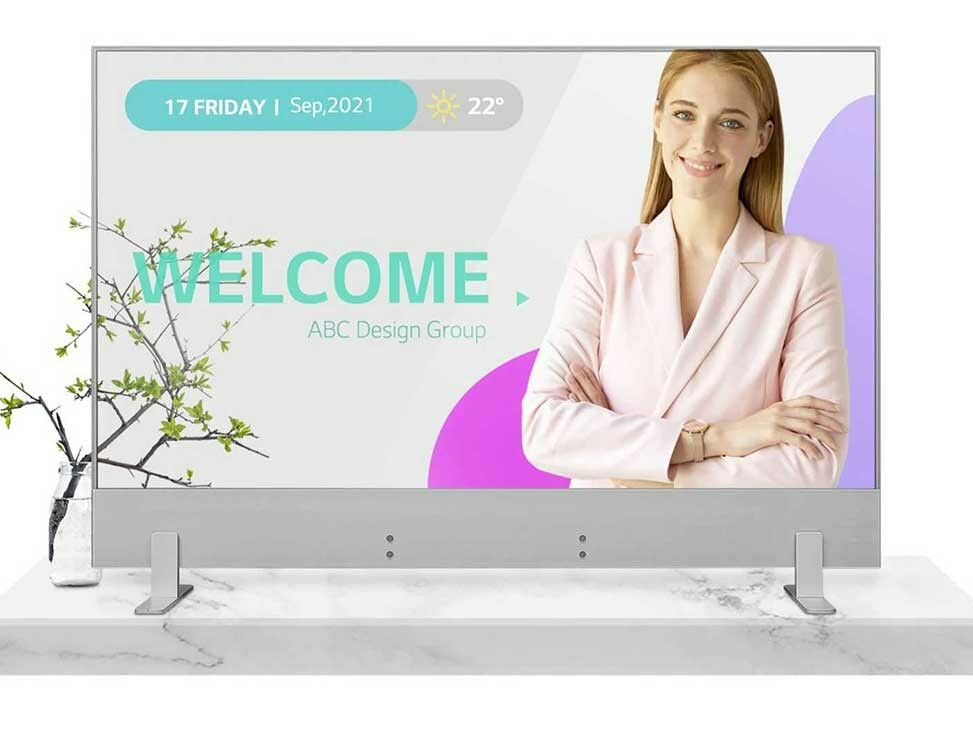 Image credit: LG Display
Smart glass is increasingly recognized worldwide for its ability to provide instant privacy, impressive energy-saving benefits, and a modern, sleek appearance. With the push of a button or the wave of a hand, smart glass changes from transparent to varying degrees of opaque within seconds. As smart glass technology continues to evolve, it's being utilized by OEMs such as LG for a variety of consumer electronics. Because of its remarkable versatility, smart glass can be used almost anywhere that ordinary glass is used. The applications of smart glass are as unlimited as one's imagination.
In addition to being used for novel purposes, such as public toilets and gym pods, and playing its own role in popular TV shows such as CSI Miami, and the more traditional purposes such as partitions, windows and doors for privacy, there are still many uses yet to be discovered. In this article, we explore the use of smart glass in home appliances and how the technology can instantly turn a range of appliances from static to multi-functional and dynamic, offering users a range of additional features and benefits. The possibilities are endless, along with the promise to save money and help companies and homeowners reduce their carbon footprint.
Households all over the world are incorporating smart technology to create efficient homes, save on energy bills and make life in general a whole lot easier. It allows you to do a wash and dry cycle while cruising down the highway, cook a roast while you're at the office, or turn on your outdoor lights before you reach your driveway.
Smart Glass Refrigerators
Smart kitchens, featuring smart large and small appliances and lighting, are designed to save time and energy, while being more efficient and sustainable. They let you control the function of an appliance with your smartphone or tablet by voice command or screen tap. You can get a recipe, do a quick conversion from grams to teaspoons or change the music from classical to rock while you're cooking.

"The Institute of Food and Agricultural Sciences at the University of Florida says that being careless with opening and closing your fridge door wastes 50 to 120kWh a year."
The kitchen is already one of the most technologically advanced rooms in your home, and it just keeps getting smarter. Enter smart glass. One ingenious way to use smart glass in a kitchen is in one of its most central appliances – a refrigerator. You may have seen fridges with built in LCD screens or displays with the weather or family photos that can turn clear in a select area to create a viewing window. What about the possibility of an entire smart glass refrigerator door, which can switch from display, sleek solid glass, or instantly turn transparent with a simple command such as a tap, allowing the user to not even have to open the door to see what's inside? Think of how much energy that would save. This inventive smart glass fridge application also has the possibility to hide disorganized shelves from view.
As more fridge OEMs continue to plan for advancements in smart glass technology, the features and benefits of smart glass fridges are sure to grow and become more popular including:
Energy Saving – fridges are energy intensive appliances. Smart fridges, and especially those equipped with smart glass, offer a more energy efficient alternative as the fridge door won't need to be open as much.
Aesthetics – modern kitchens favor sleek designs and the use of solid materials including glass. New fridges featuring glass fridge doors without any obstructions such as a water cooler and ice maker on the external facing door is one example. Smart glass can be integrated into almost any shape and size, offering OEMs design flexibility to create the fridge that their customers' desire.
Customization – Fridges equipped with smart glass on the fridge door can be customized further with color and patterning, modifying the appearance for brand or customer preference. The possibilities for customization are endless and can be tailored to suit OEMs on a bespoke basis.
Smart Home Integration – fridges equipped with smart glass can easily integrate into smart home automation systems making them a high-tech upgrade for smart kitchens. Smart glass functionality is controlled in the same way as other smart home appliances (lights, speakers, etc) which are connected to Wi-Fi, and are controlled with touch, apps or motions sensors for an enhanced experience.
Smart Glass Displays & Televisions
The trend to incorporate smart glass into serial display and television production and the latest ultra-modern product design for consumers is just getting started. OEMs of televisions and displays have endless potential to utilize smart glass with paired with projection or OLED (and T-OLED) to advance the market forward and offer unique competitive advantages to boost sales and increase customer loyalty and retention. Additionally, there are options to use smart glass and projectors to turn smart glass into a display surface.
Some of the benefits of embedding smart glass into displays and television screens include turning the screen itself into a semi-transparent information display, to view weather reports, calendar events, Alexa reminders and notifications, and so much more, while allowing the user to still see through the screen to the other side when desired. This would be a great design solution for displays that are placed in the middle of the living room, so they don't block the view and ensure a sense of openness and spaciousness is maintained.
In addition, Gauzy's SPD technology gives a smart glass display the ability to self-shade for better viewing quality as lighting conditions change. This would be another great feature for OEMs to take advantage of in the home, appealing to customers whose houses receive strong sunlight and whose televisions are placed in those extra bright spots that receive direct sunlight.
Another option for OEMs to consider is how to incorporate smart glass and projectors to create displays. Smart Glass projection film is a clear window tint-like material that makes it possible to convert standard glass used in office partitions, store fronts and even sliding doors into a high-quality projection screen within a matter of seconds. It has gained popularity in the last decade, becoming a preferred medium for attracting attention and drawing consumer awareness to brands, products and services for companies worldwide. Luxury residences are also incorporating smart glass projection technology into large scale cinema and lounge rooms. It's a great choice for projecting on glass in malls and in-store displays. An added benefit is that glass treated with projection film can also double as a privacy partition.
To fully realize some of the benefits of smart glass displays in the home, we can look to what's already being created in the automotive industry, specifically in transparent displays for trains. Always at the forefront of smart glass innovation, smart glass manufacturer Gauzy recently announced a collaboration with LG to create a transparent Organic Light-Emitting Diode (T-OLED). The 55" T-OLED panel for an IGU on trains lets visitors experience the many entertainment and informative applications of this technology. Gauzy's SPD can be dimmed to block 99% of light, enabling even higher contrast ratios. As a result, OLEDs become even more adaptable to bright environments and shifting light conditions. When the SPD is turned on, a T-OLED screen can deliver clear visual content to show what is behind the display. When direct light hits, it can provide shade for passengers, ensuring a comfortable travelling experience.
SPD technology dims the T-OLED panel to any desired opacity, allowing high contrast and rich colors throughout the day and night. Not only do Transparent OLED displays boast strength and durability, they also allows passengers to check transportation information at a glance and watch entertaining content on board, while giving advertisers the opportunity to get their products noticed.
With unlimited application potential in both the automotive industry and the built environment, this collaboration presents the future of signage for all kinds of settings. The same benefits smart glass displays bring the automotive sector can also apply to residential applications including:
Higher contrast for increased viewability – displays fitted with smart glass are better equipped to handle glare and spots with high sunlight, allowing viewers to better experience content on screen in all types of lighting conditions.
Customizable transparency – smart glass displays can shift to varying degrees of transparency, allowing the user to see through to what's behind the screen, while at the same time viewing content on the screen. This offers flexibility to create dynamic interior spaces whereby displays don't have to close up rooms or spaces, and instead maintain a sense of openness.
Shading – Smart glass displays can be fitted into external facing windows, facades and glass; utilizing SPD technology can dim to provide shading in rooms as well as acting as a display. SPD technology dims the Transparent OLED panel to any desired opacity, allowing high contrast and rich colors through day and night.
Design Aesthetics – smart glass displays can be customized to fit almost any and every design aesthetic. Sleek, minimal, or showstopping centerpiece – it's up to the imagination.
Smart Home Integration – smart glass displays integrate into home automation systems and be controlled however the user prefers; app, motion sensors, touch panels and more.
The Future is Bright
The possibilities of smart glass home appliances and smart glass electronics are endless. Any home appliance that features glass can be that much more energy-saving, efficient and convenient. Just imagine what smart glass can do for alarm clocks, microwaves or an oven, a washer or dryer, or even a picture frame or a lamp. All OEMs of home appliances that contain some element of regular glass have an opportunity to work with smart glass technology to bring their innovative new products to life.
If you're an OEM manufacturer for a home appliance, or another type of appliance that would benefit from smart glass, please reach out to us at Gauzy at any time. We'd be happy to discuss our technology with you and how it could be utilized to realize your vision.
Gauzy, a world leader in the development and manufacturing of emerging smart glass technology, has enabled the creation of smart glass for use in the automotive industry for cars, trains, busses and more, as well as in the architecture and interior design space for both commercial and residential developments. Contact us today.
Want to learn more about Smart Glass or receive a quote? Contact the Smart Glass experts at Gauzy today.