Smart Glass can be used almost anywhere regular glass is used in building applications – including typically hard to reach places like skylights. In this series of articles, we unpack the ever-expanding number of applications for this groundbreaking product. In our last article, we looked at Smart Glass for bathroom enclosures and shower doors. In this article, we take a look at Smart Glass skylights.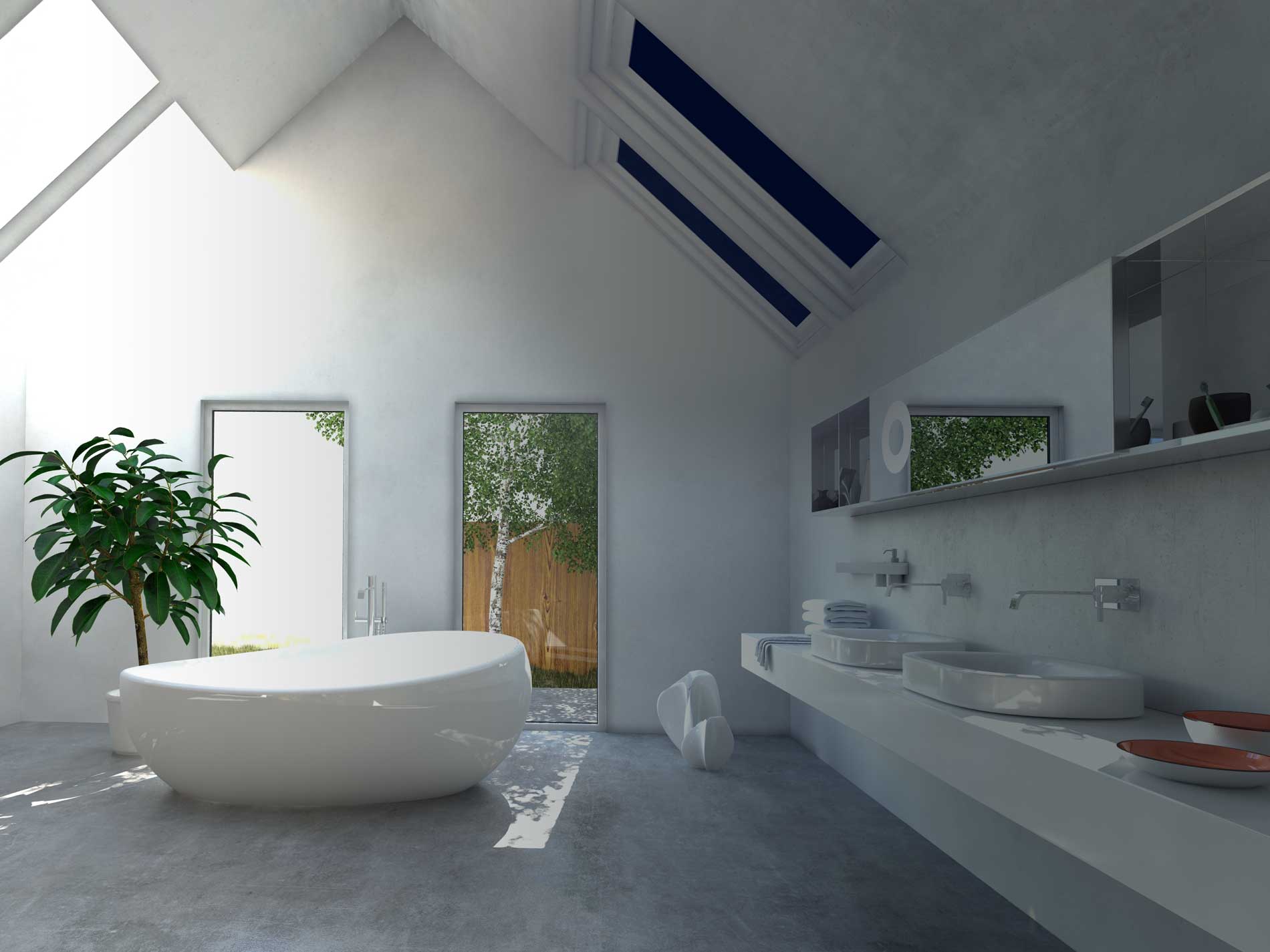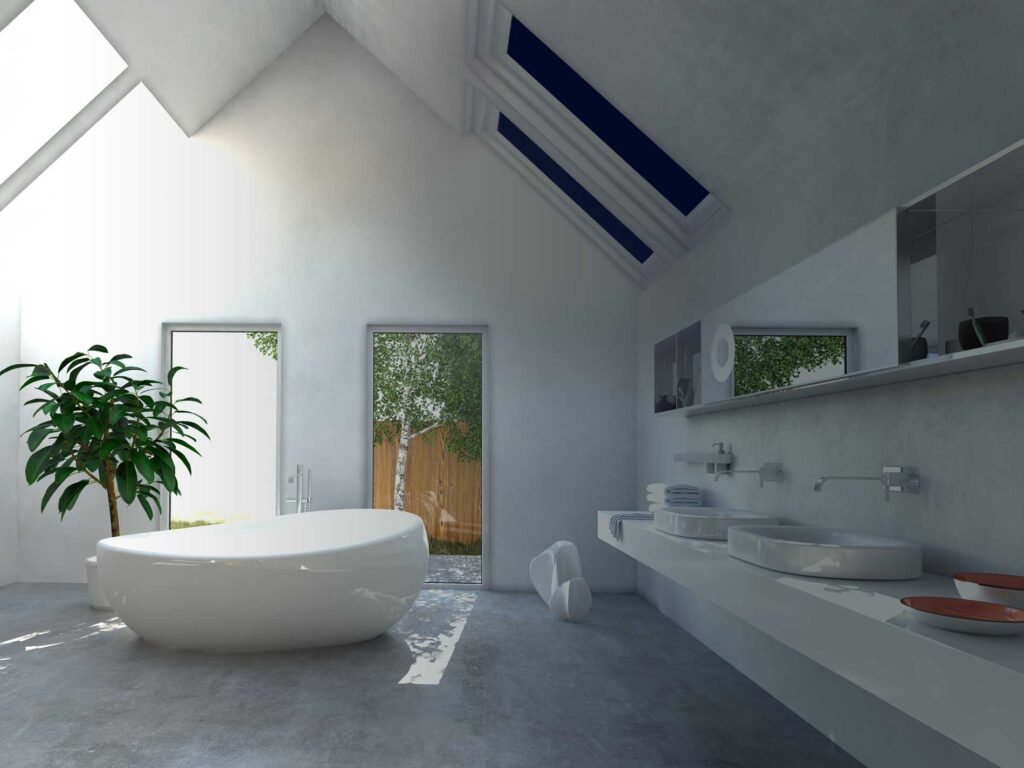 Thanks to advances in smart glass technology, skylights are no longer simply pieces of glass in the ceiling to let natural light into a room. They can be an effortlessly versatile and practical architectural feature – providing the flexibility for privacy, solar control, or shading with the click of a button or through automation systems. But just why is smart glass so beneficial when used as a skylight?
Skylights are usually built into a ceiling, which typically makes them difficult to reach and nearly impossible to dress with curtains or blinds. They can let in too much light that creates heat, or present an inherent privacy issue particularly in cities – people in private spaces are subject to peering eyes from taller buildings that can look down into their skylights. And constraints for shading solutions in atrium skylights in office buildings or other commercial spaces like shopping centers may let in too much light that creates eye strain, uncomfortable glare, or a space that is unbearably hot. 
Not to mention, given that skylights are typically so high up and slanted in nature, when fitted with many traditional shading or privacy solutions they can be painfully arduous to operate and clean on a regular basis. 
Switchable glass technology provides a solution; convenient, instant privacy or custom shading with the flip of a switch, turning a skylight from clear to shades of opaque within a matter of seconds. Cleaned just like regular glass, smart glass skylights are ideal for hard to reach places like ceilings, providing an easier-to-clean alternative than traditional glass paired with blinds and shutters.
When paired with PDLC technology, Smart Glass Skylights can balance the need for openness with the desire for privacy, while blocking IR to create cooler spaces. When skylight glass is fabricated with SPD technology, skylights can block more than 99% of light, shading areas without the need for blinds or curtains in impossible locations.
Benefiting a wide variety of public and private spaces, here are some of the top ways smart glass is enhancing skylights across a range of different building types:
Smart Glass Skylights for Offices
In addition to reducing energy bills, skylights improve employee well-being and increase productivity. Because they allow natural night to enter the workspace, they reduce stress by reducing levels of the hormone cortisol in the body. But office spaces in crowded cities or in multi-storey buildings open up possibilities for onlookers from above, not to mention light entering the room at different times of the day which causes eye strain for employees. Smart Glass skylights with PDLC or SPD solve this design challenge, removing the need for cumbersome and clunky electric shutters or blinds.
Skylights in Museums & Galleries
Both direct and artificial light can damage delicate artwork by exposing it to light and solar heat gain. Smart Glass skylights provide an ideal solution by delivering high illuminance levels, which can direct visual emphasis near the artwork on display while avoiding hitting it directly. Meanwhile, Smart Glass skylights stand on their own as an effective attraction, enhancing a museum or gallery's contemporary clinical design and helping to create a warm and inviting atmosphere.
Skylights in Luxury Homes
PDLC vs SPD Smart Glass: What's the difference?
The key differences that set SPD and PDLC apart: SPD stands for Suspended Particle Devices (rod-like particles that are suspended in a matrix). SPD can block up to 99% of light, making it ideal for custom shading in outdoor windows, and not a solid privacy solution. Meanwhile PDLC stands for Polymer Dispersed Liquid Crystal (liquid crystals that are dispersed into a polymer glue-like material). PDLC has high light transmittance (80%), making it ideal for privacy or projection when opaque, and not for tinting. It's also possible for PDLC to include IR blocking features, for example, Gauzy's Solar PDLC blocks up to 78% of IR light that creates heat, reducing cooling costs and increasing energy efficiency in buildings. 
Smart Glass is fast becoming a must-have feature for architects, interior designers and builders. As many Smart Glass applications continue to become more mainstream, it's critical to know about them and how best to leverage them in your project. Next in this series of articles we look at Smart Glass Projection Screens.
Want to learn more about Smart Glass or receive a quote? Contact the Smart Glass experts at Gauzy today.