From front doors shower doors, there's an endless amount of applications for smart glass technology. In our last article, we explored all different types of smart glass doors. In this article, we take a look at smart glass in bathroom enclosures and shower doors.
Smart glass, also known as LCG® (light control glass) or privacy glass, offers a sleek, aesthetically pleasing, cost-effective, and easy to clean switchable privacy solution for high end bathrooms. Switchable Privacy Glass and films turn on and off with electricity, supporting an open atmosphere or privacy instantly. This smart glass technology is compatible with wet areas making it a perfect solution for glass bathrooms and showers in luxury homes or hotels of all sizes. 
Smart Glass in Bathroom Design
Smart glass and films are perfect for glass bathrooms, especially as designers continue to lean towards minimalist designs that hotel guests and homeowners appreciate. Glass makes small spaces appear larger, but limits privacy, which is essential when talking about bathrooms and showers.  
When smart glass is used, privacy is available instantly with the flip of a switch, which is not only convenient, but makes using these spaces comfortable and secure. The shower is often the first thing you see when you enter a bathroom as it's a prominent feature that takes up a lot of space. 
A transparent door or enclosure will allow the wall and floor tiles to really shine, whether they're marble, ceramic or porcelain. Even showerheads and fixtures are designed for great looks as well as functionality, so you want them to be visible. Using traditional curtains interferes with such aesthetic elements (and has terrible hygiene implications) no matter how pretty a pattern they might have.  
Switchable glass also makes a terrific room divider, shower screen, partition or even a dividing glass wall between a bathroom and bedroom. A transparent bi-fold shower door might be perfect for a tight space, or mirrored panels may help make a bathroom appear larger. Glass certainly helps light flow between areas, making for an overall better experience inside or outside a bathroom or shower.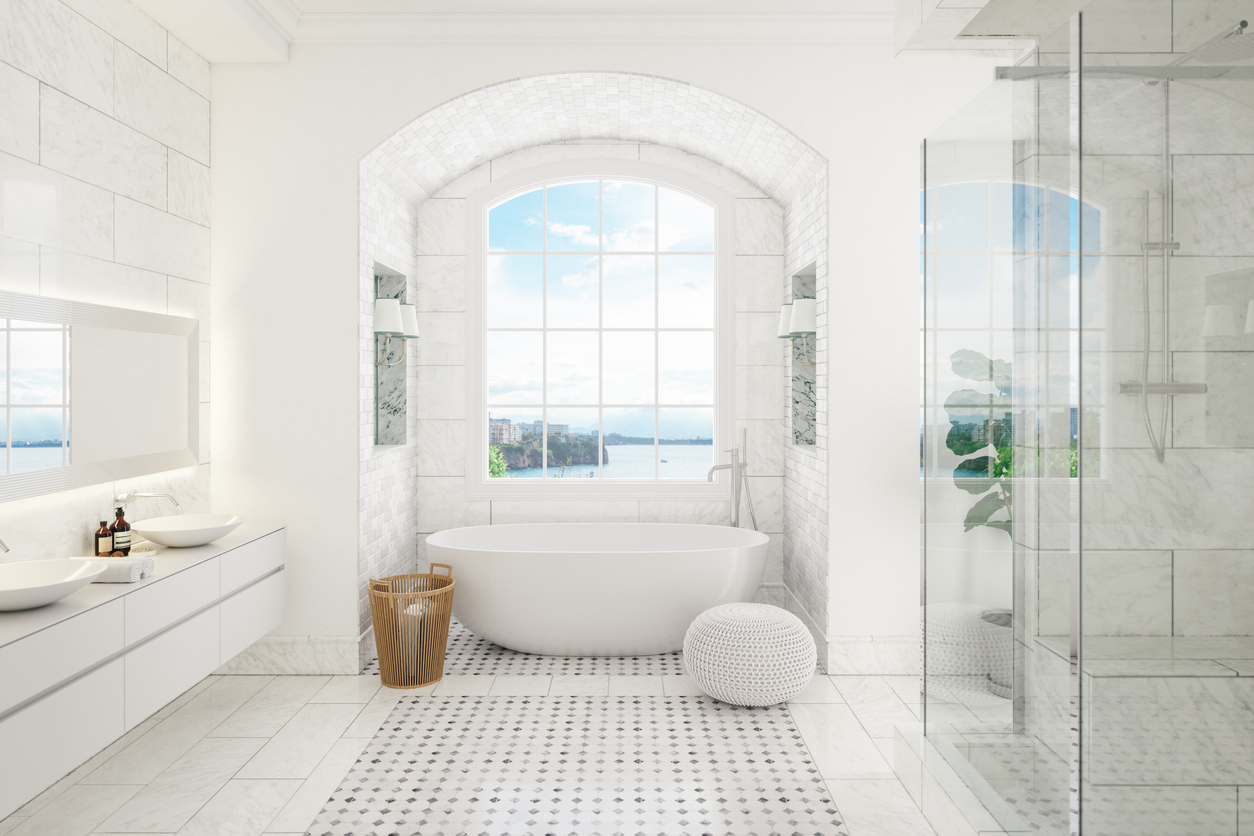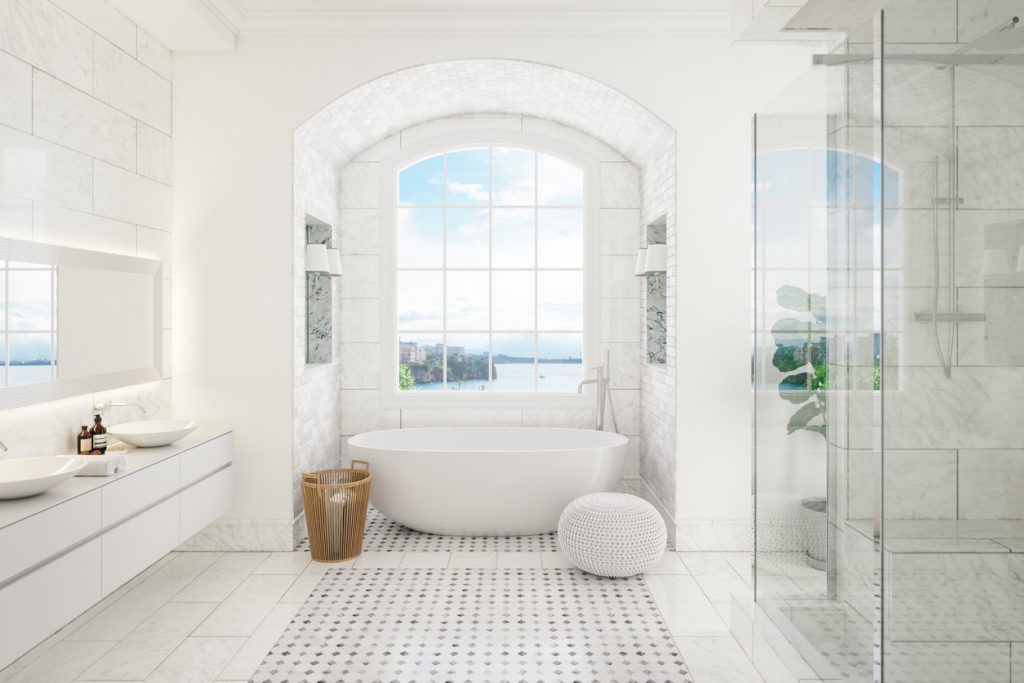 Why Smart Glass is a Better Choice for Bathrooms
A smart glass shower stall or bathroom enclosure has many advantages, from aesthetics to safety, hygiene, and general usability. Shower curtains or privacy curtains not only look unappealing, but are also a hazard. The importance of clean spaces has been amplified by COVID-19, and this is important in bathrooms where we live, work, travel, and play. Some of the most critical issues with traditional curtains in bathrooms include:   
Studies have shown that shower curtains carry more germs than any other item in a bathroom. They detected 60 times more microbial life on curtains than on toilet seats. The strains of bacteria present include gram-positive rods, the majority of which are harmful to humans and can be resistant to antibiotics.
This phenomenon may be because, believe it or not, a lot more than just washing and rinsing may occur in the shower. In addition, toilet flushing with the lid open can spread contaminated water droplets to a shower curtain. After the germs collect on the shower curtain, the bacteria multiply in the hot, humid atmosphere, surviving and thriving on organic compounds released by the human body. Commonly found pathogens include sphingomonas and methylobacterium, which can infect wounds and exacerbate illness in those with compromised immune systems.
A good hot shower might feel wonderful, but the moisture it creates and the mold that results can cause health problems, especially for people with respiratory problems, children, older adults and those with compromised immune systems. Mold exposure is associated with symptoms such as eye irritation, chronic cough, skin rashes and sore throat. The mold that easily forms on shower curtains can cause allergic reactions. In addition, the toxins that mold secretes, called stachybotrys, can cause asthma, headaches and nausea.
Unfortunately, washing the shower curtain does not necessarily solve the problem (and many people do not do this on a regular basis anyway) because heat and detergents can release toxins more quickly. Often the only solution is to replace it frequently, which is costly and wasteful.
Most shower curtains are made with polyvinyl chloride (PVC) and can release over 100 different volatile organic compounds (VOCs) into the air through off-gassing. This is 16 times greater than the recommended guidelines for indoor air quality established by the U.S. Green Building Council. Seven of the elements found are classified as hazardous air pollutants by the EPA under the Clean Air Act and can cause eye, nose and throat irritation as well as developmental damage to the liver and central nervous, respiratory and reproductive systems. Young children are particularly sensitive to these chemicals.
In addition, shower curtains can also contain phthalates and metals such as mercury and lead. These chemicals can linger in the air for up to a month after the curtain is hung. Phthalates are an unstable chemical that migrate in the shower curtain itself, eventually making their way onto its surface. When they evaporate and become airborne, they cling to dust in the environment. They actually release more gasses when exposed to hot and humid conditions. Just one new PVC shower curtain releases total VOCs that exceed the entire amount existing throughout a home over a four-day period. 
Maintenance and Replacement is Costly
Curtains in wet areas need to be thoroughly maintained in order to prevent mold and mildew from spreading on their surface. Cleaning or replacing them regularly is expensive, time consuming and wasteful.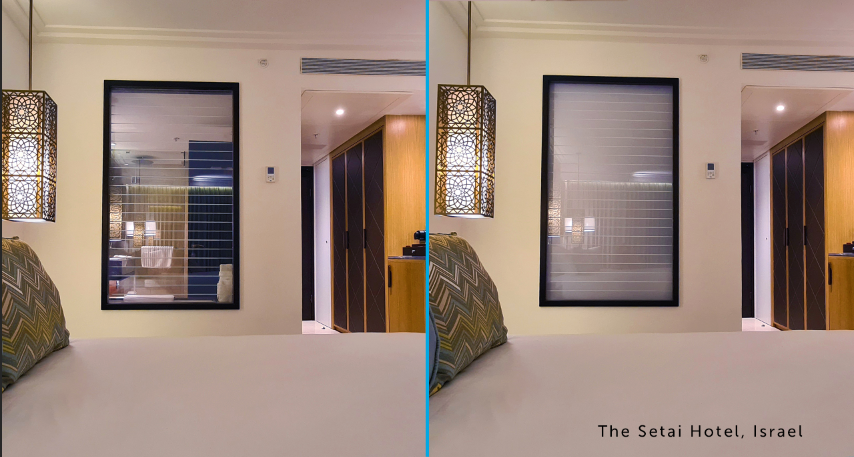 Smart Glass Bathrooms are Safe and Durable
Because only safety tempered or laminated glass is used, you will have many years of worry-free durability with only a minimal amount of maintenance. The glass can look good for years with an application of a protective coating to the glass that ensures long lasting shine. Smart Glass is easy to clean (just like any type of glass), making it easier to clean than curtains, resulting in a safer and healthier bathroom environment.  While more expensive than shower curtains, glass shower enclosures are a one time investment that speaks to health and experience.
Smart glass and switchable films are a smart choice in bathroom design:
     

Modern and elegant aesthetic

     

Provides privacy or an open space at the flick of a switch

     

Makes small spaces appear larger

     

Allows in more light

     

Shows off unique accessories without being bulky 

     

Easy to maintain and long lasting 

     

Hygienic and easy to clean

      Tempered glass used is durable and safe 
The bathroom is perhaps one of the most common areas where smart glass is used. A perfect replacement for bathroom blinds and curtains, smart glass is an easy-to-clean and sleek privacy solution for bathrooms of all shapes and sizes. In our next article, we look at another common application – smart glass skylights. 
Want to know more about Smart Glass technology or receive a quote? Contact a Smart Glass Expert at Gauzy today.