What does the "New Normal" mean for hotel architecture and interior design? No more fabric blinds, curtains or shades.
Nowhere is the COVID-19 pandemic more pervasive – and persistent – than in hotels and the hospitality industry. Both large and luxury hotel chains and resorts such as Disney, have been forced to close with staggered and ever-changing reopening schedules. And the boutique and economy hotels that remain open are seeing significantly less guests. A recent McKinsey report suggests most properties won't see regular occupancy rates until 2023.  
This is not business as usual. In fact, it's a prime opportunity to renovate existing projects and plan accordingly for future projects. Hotel owners, architects, and interior designers who work in the hotel industry need to consider the necessary safety precautions guests now expect, while at the same time provide a standout experience they'll never forget.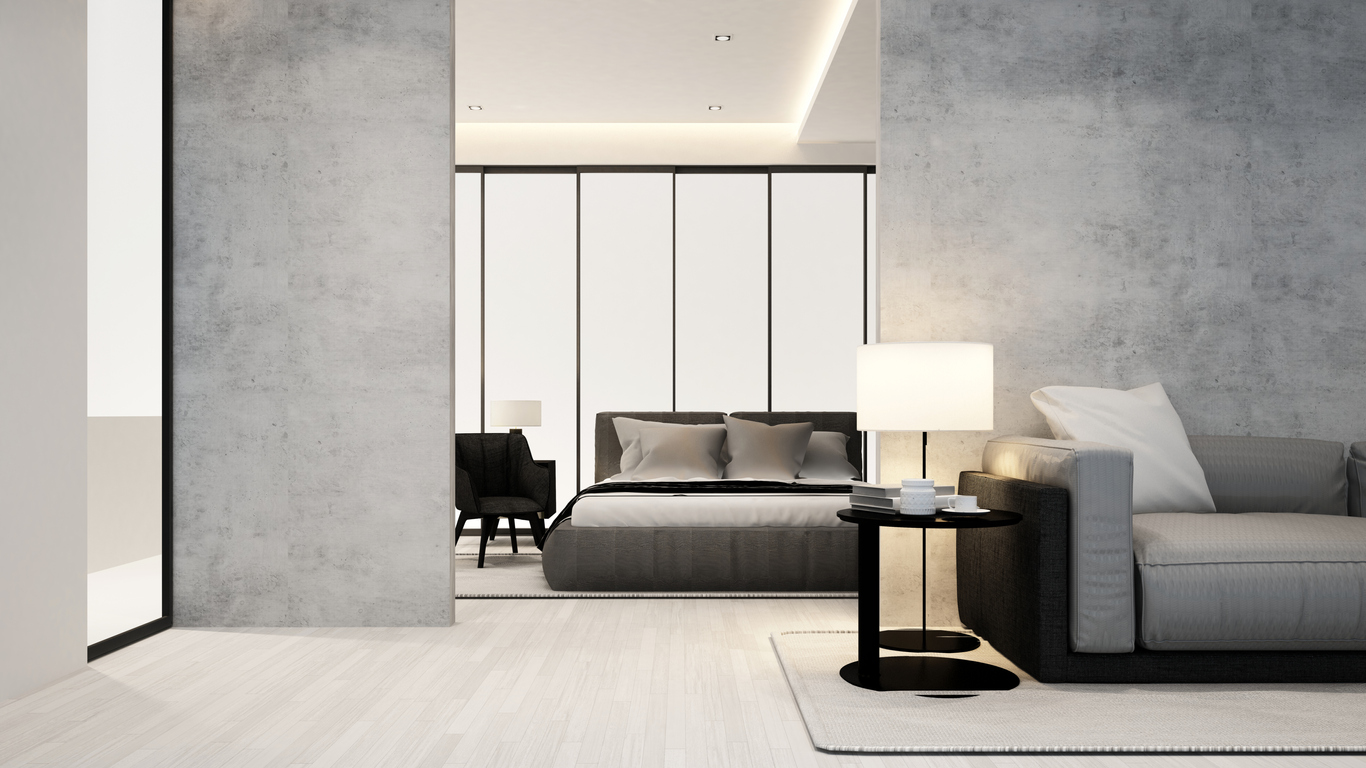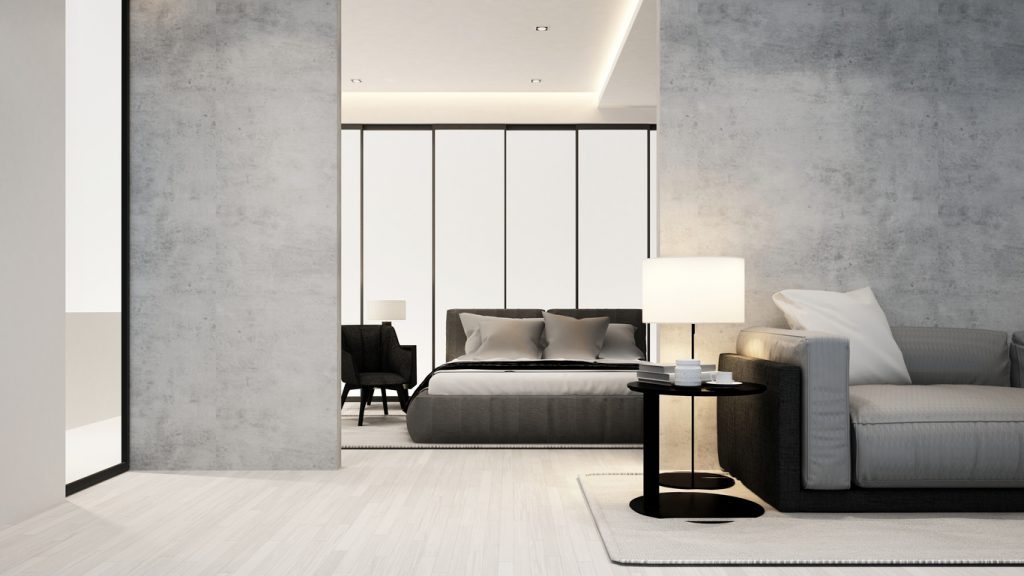 New Normal Interior Design Trend: Easier-to-clean Hotels
Cleanliness has long been a factor in a hotel's ratings and customer satisfaction. If a hotel is exceptionally clean, or on the contrary, dirty, a guest will notice it immediately. And now, more than ever, this is a factor guests will not only notice, but actually seek out. 
In a survey of over 3,000 travellers across the US, UK, Canada, Australia and Hong Kong, more intense room cleaning was the top way guests expect hotels to protect them from infection. 
The good news is, the materials we choose to use when building, remodelling and renovating can make cleaning hotels faster and more cost-effective. How? 
On

average

it can take 43 minutes to clean a room after a guest has checked out and 23 minutes to clean a stayover room. This doesn't leave much time (if any) to properly clean fabric. If this shocking

Buzzfeed article

is anything to go by, some hotels only dust drapes every four weeks and clean shower curtains every three months. It's

recommended

that curtains aren't just dusted, but completely deep cleaned at least once every three months.

Fabric curtains are harder to sanitize compared to other materials like glass or wood and can rapidly become contaminated with microorganisms. Not to mention they are frequently touched by guests and employees. In high end hotels specifically, fine quality linens can require expensive specialized cleaning protocols and can lead to curtains shrinking or becoming damaged, which requires additional replacement costs. 

Finally, regardless of whether curtains or shades are damaged or dirtied during their lifecycle, it's recommended they are replaced every six years. In the long term life cycle of a hotel, this adds an ongoing costly expense. 
There's no doubt that fabric materials typically used to provide privacy and add to the allure of hotel interior designs can play host to harmful disease spreading bacteria and prove difficult and costly to sanitize. For a standard 100-bed hotel the annual expense for hotel curtains can quickly reach $128366. The industry should shift to smarter technological solutions for light control and privacy that are easier to maintain and limit guests exposure to germs.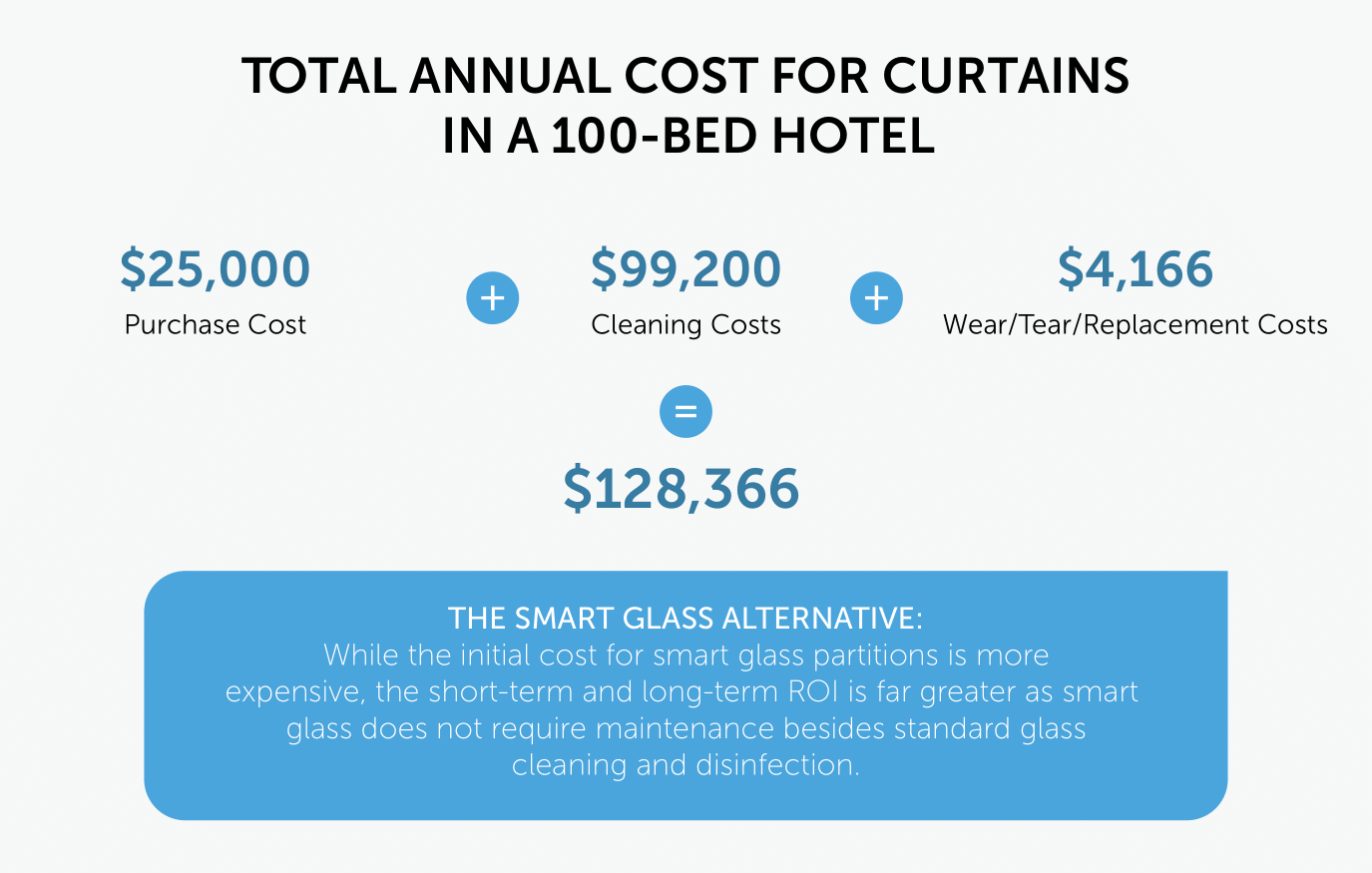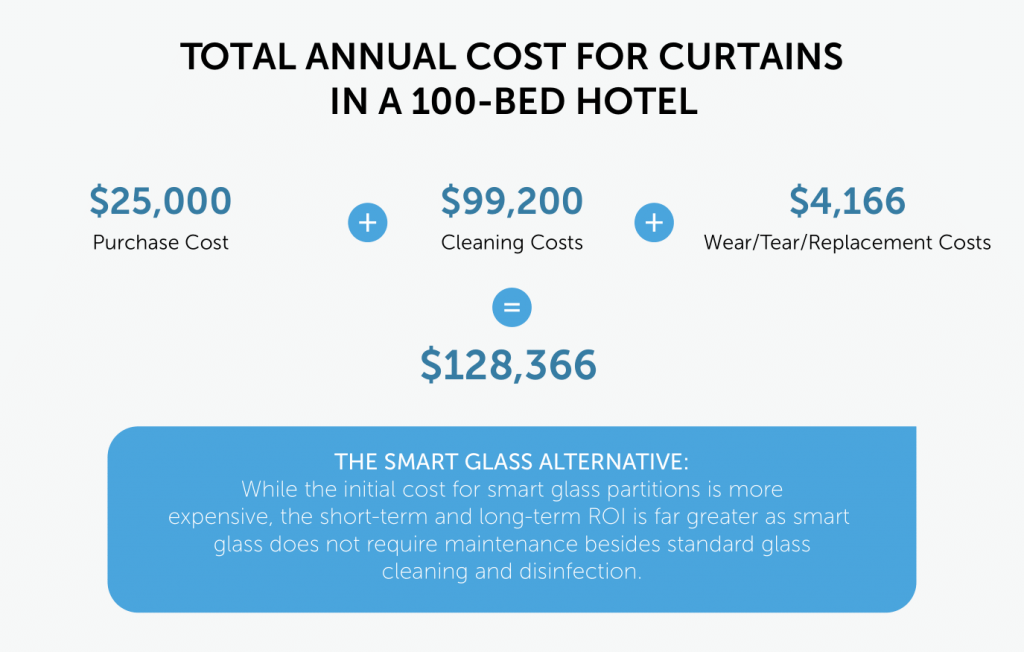 Source: Somfy Systems, Homeadvisor, Aliance Online

Wow Hotel Guests With Sanitary Switchable Glass Solutions
Compared to fabric, glass windows and partitions are easier to sanitize with bleach and ethanol and more cost-effective, helping hotels improve their bottom line. In the aftermath of COVID-19, glass partitions have the potential to put hotel guests at ease and therefore improve vacancy rates. 
Previously, switching out fabrics for glass meant sacrificing privacy. But now, new light control glass (LCG®) nanotechnology, also known as PDLC, smart glass and switchable glass, is changing that.
The Setai Hotel in Israel features the first fully functioning LCG® Privacy Blinds worldwide, in 80 private guest rooms. The blinds create a versatile partition between the washroom and bedroom, while eliminating traditional curtains which accumulate dust and require maintenance. Besides providing guests with an added "wow factor," the Switchable Glass solution is particularly ideal for bathrooms and moist areas where mold and mildew build up. This is where curtains are the most expensive to clean and maintain. Switchable privacy glass is cleaned just like regular glass, making it a smarter and more versatile glass partition solution. 
In communal spaces such as conference rooms and lobbies, Smart Glass allows guests the option for privacy when they need it and openness when desired. And to give the whole hotel the Switchable Glass facelift, new architectural grade Suspended Particle Device (SPD) smart glass film is now available blocking up to 99% of light. It's perfect for external facades, creating shade when needed while maintaining a view of the outside scenery. 
The future might be unclear right now, but one thing is clear: when travel picks up again it will be hotels that create the cleanest spaces in the smartest ways that'll come out on top.
COVID-19's silver lining? Lower than usual occupancy rates are a prime time to do some extensive renovations. Smart Glass can be laminated into new glass or applied retroactively to existing glass depending on your needs. Contact the smart glass experts to see how LCG ® can be used in your hotel project.