As Smart Glass technology expands, so do its applications. In this series of articles, we unpack the many ways this groundbreaking product enhances the spaces we spend our time most. Last time, we looked at Smart Glass Windows. In this article, we'll explore Smart Glass Doors.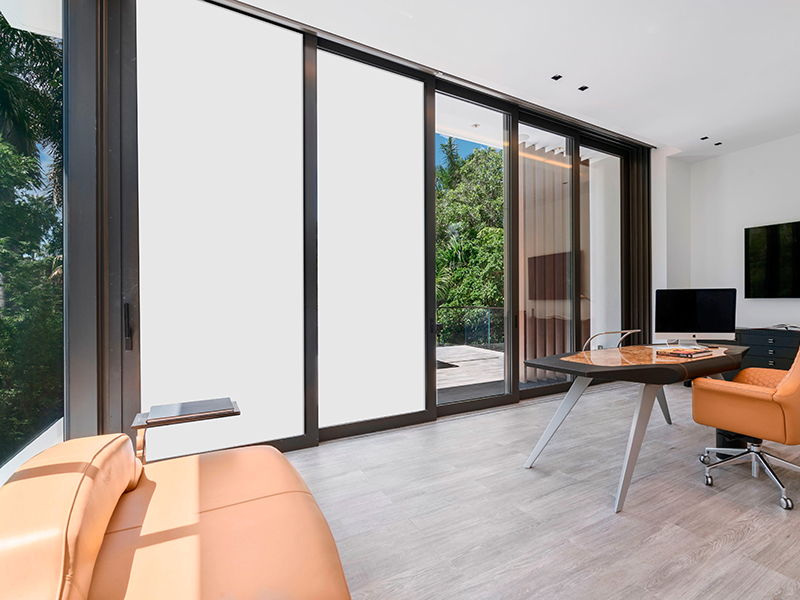 Smart Glass technology (also known as switchable privacy glass) allows for a light filled space while in private mode making it an ideal choice for both interior and exterior glass doors. It can be fashioned into a wide array of sizes and shapes to fit any type of door, from sliding doors in glass office partitions to the front doors of ultra luxury homes to door inserts, windows and panels in commercial and industrial buildings.
Perhaps most importantly, doors fitted with Smart Glass technology solve the age-old downfall of glass doors – they don't allow for privacy. More traditional privacy applications such as fabric shutters and curtains get stuck and are difficult to maintain. They are also an inconvenience as rolling shades before opening a door is time consuming. As we move toward technologically-advanced building and spaces , Smart Glass Doors are set to become the door of choice for architects and interior designers.
Smart Glass Interior Doors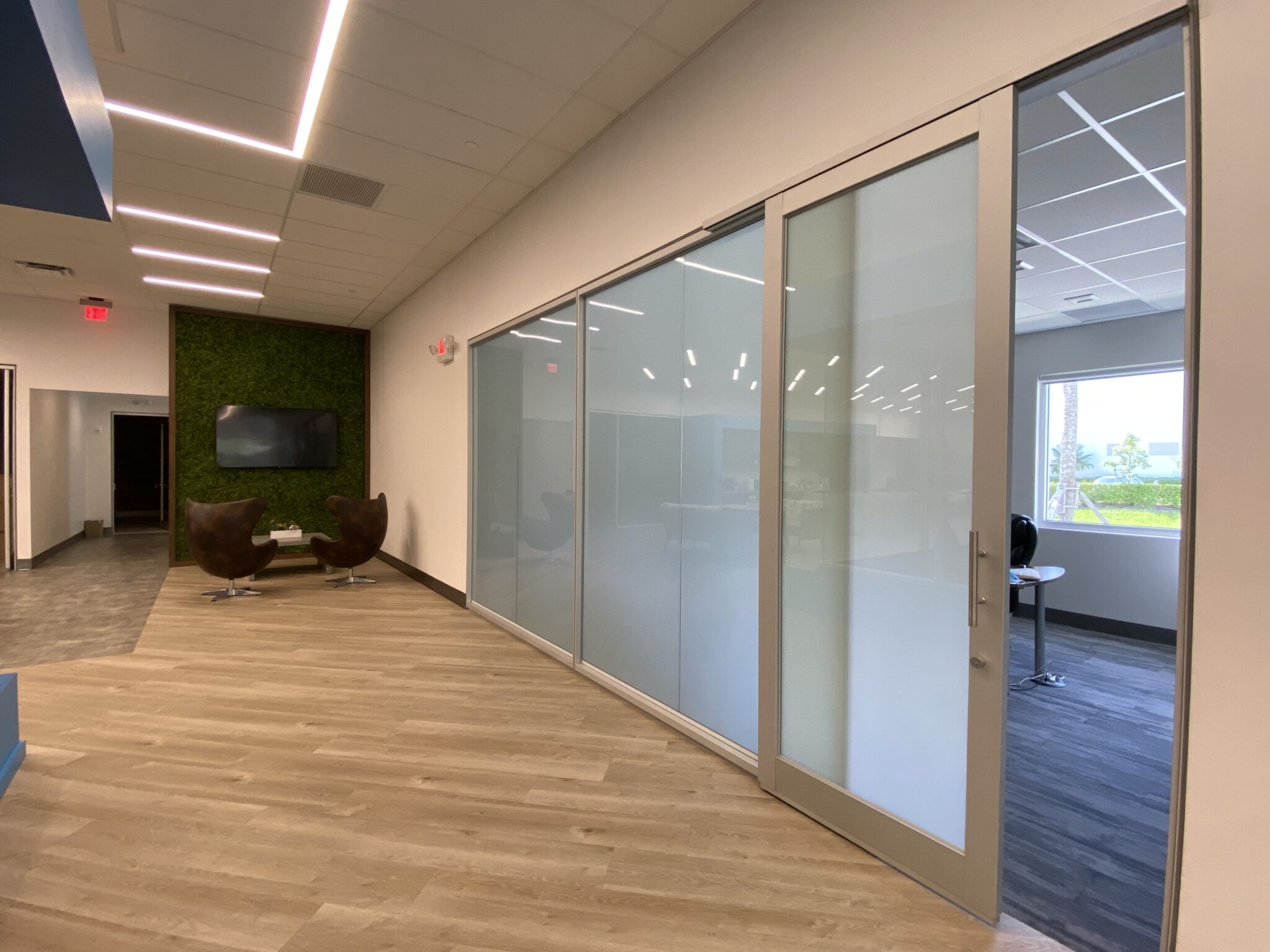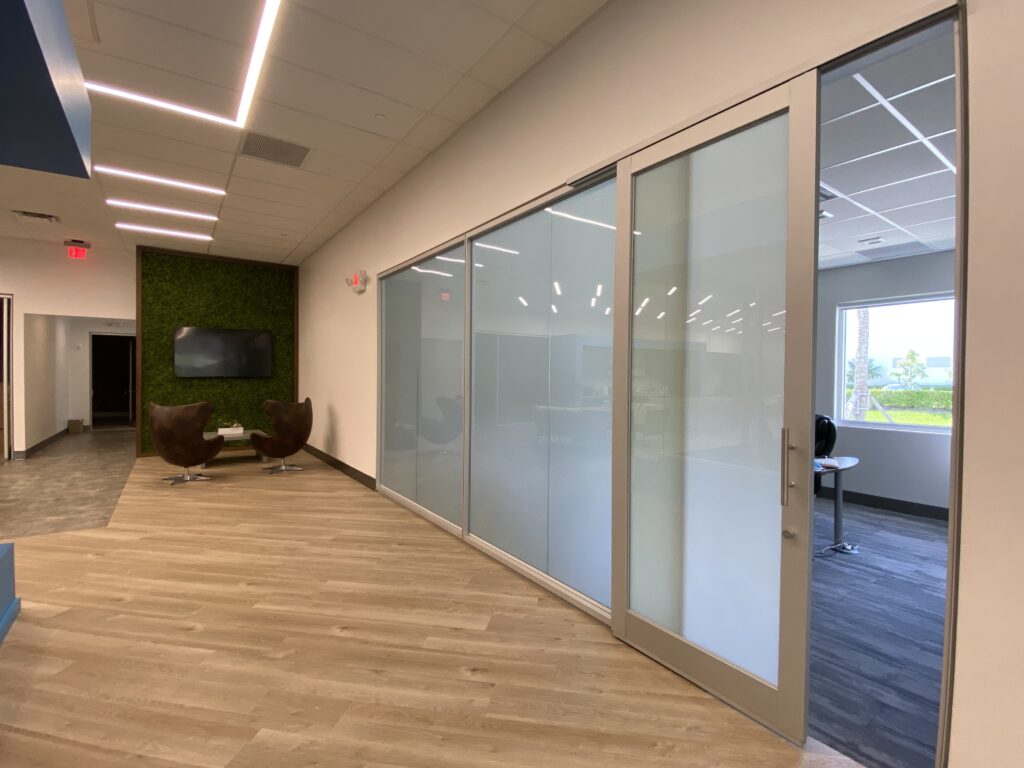 While it's possible to construct doors entirely from glass, glass doors are also usually combined with metal or wood frames, for visual, safety, and functional purposes. With the addition of Smart Glass doors, fixed glass walls or glass partitions can become flexible openings, free from visual barriers, allowing for a fully uniform appearance. When used as a stand alone door and not part of a full glass partition, Smart Glass doors provide complete privacy by becoming opaque within a matter of seconds but give flexibility for full transparency when needed. Smart Glass can be used in all styles of interior doors when paired with the correct hinges suitable for smart glass wiring including:
Hinged Doors:

The most popular internal door, they have hinges on one side, allowing them to swing open and closed. Hinged doors, either framed or unframed, are very popular as shower doors because they open out at least a full 90 degrees, providing a wider space into the enclosure. The entire door can be made with Smart Glass, allowing for complete privacy or openness depending on preference.

Sliding Doors:

Used for aesthetics or space saving, they slide open and shut, moving in a horizontal motion. These are a perfect application for the use of Privacy Glass in a small bathroom or as part of a sliding door glass partition system, that don't obstruct light and connect to adjacent bedrooms or living spaces in a coherent way. 

Bi-folding Doors:

Ideal for closets or areas with limited space, they fold into two portions when pulled open. As patio doors, they can open up a home to indoor-outdoor living, enhancing views, blocking harmful rays, and with the flexibility to alter the size of the opening to control airflow. A qualified installer and special installation is recommended to install Smart Glass into bi-fold doors. This ensures the wiring works according to specifications as the doors fold in and out. This is a more complex installation and may take additional support and customization from a manufacturer. 

Bypass Doors:

Used to create more space in a room, they slide on a track along the upper portion of the door, overlapping when slid to the side. They can be used instead of a door to close off spaces between two rooms, which makes them a great choice for Privacy Glass to allow for light when transparent and privacy when opaque.
Pocket Doors:

Used to save space, they are built into a contiguous wall or separate crevice, into which they can "disappear." Useful in creating separate rooms that can be joined as needed, they can be in a closed position while still providing light or privacy when appropriate, blocking out unwanted sounds and views and saving space.

French Doors:

These usually come in pairs and open at the center. They are almost always paned. Used as either entry patio doors or interior doors to separate two spaces, Smart Glass will allow them to let in light, while providing privacy when separating spaces as needed. Panes are great as they give lots of opportunity to cover smart glass bus bars and wires. 

Pivot Doors:

Pivot doors have a unique hinge in the center of the door frame, allowing the door to pivot on the hinge to open in either direction. Because they can be larger than regular doors, they can make an impressive statement in hotels or corporate towers.  They allow for a larger opening to accommodate everything from bicycles and baby carriages to wheelchairs for

ADA compliance

. Smart Glass will add all its advantages while also creating a beautiful, memorable look and feel.
Smart Glass Exterior Doors
Privacy Glass can be used in the most common types of front and patio doors, including sliding doors, common hinges doors and French doors. It offers unparalleled functionality when incorporated into the front doors of private homes and apartment complexes including:
Letting in light but preventing people from peering inside without invitation. 

A full-glass entry door will also afford a view from the inside out – and is an increasingly popular choice in modern home design. 

Expansive views of front or backyards, or views of scenery/cityscapes with the option to block views during busy hours with lots of foot traffic.

Giving pets the option of looking outside when it suits (and pet owners being able to see their excited pets when walking up to their door).
Paired with Solar LCG®, Smart Glass Exterior Doors can contribute to glare reduction in doors that have direct sunlight or as doors that are part of full glass facades. Many home or balcony doors are incorporated into glass exteriors. 
Why Smart Glass is the Better Choice for Doors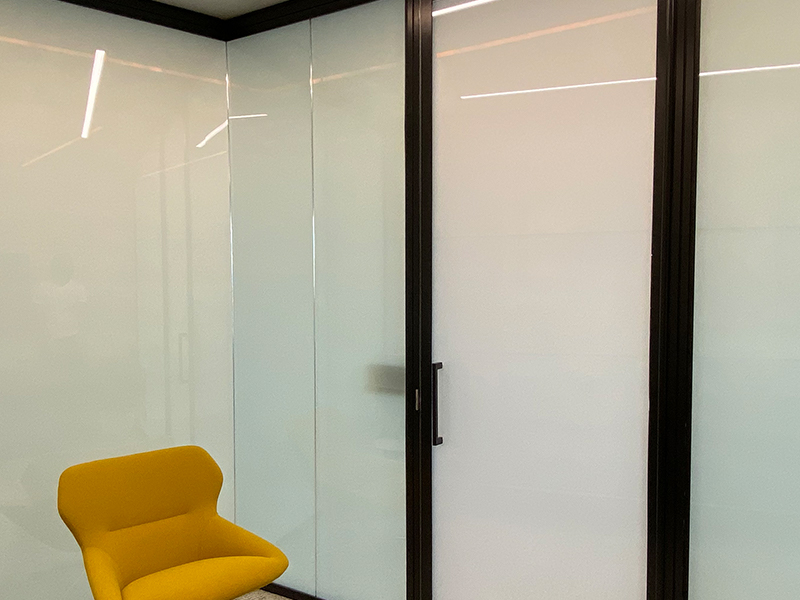 In addition to offering the dual functions of light filled privacy and  paired with instant  transparency, there are also many other advantages to using Smart Glass in door applications:
Reflects 78% of IR light, reducing heating and cooling costs (when paired with

Solar LCG®

). 

The best privacy solution for glass doors 

Ability to transform a space within seconds

Distinctive sleek look

Improved security

Unobstructed outdoor views

Blocking of damaging UV rays

Easy to customize to fit a wide range of door sizes, styles and aesthetics
Smart Glass Doors – whether internal or external – offer the chance to elevate architecture and interior design from both a practical and aesthetic perspective. Providing new ways to balance privacy, openness and light, Smart Glass allows users to further customize the spaces they spend their time most. Easily customizable and effortless to maintain, Smart Glass doors are the new must-have for technologically advanced and contemporary buildings.
Smart Glass is a rapidly emerging technology impacting every built environment. Its possible applications are growing day by day, but there are common ones it pays to know about. Next in this series of articles we look at Smart Glass Shower Doors & Bathroom Enclosures.
Want to learn more about Smart Glass or receive a quote? Contact the Smart Glass experts at Gauzy today.