The architecture of a school is a critical factor in education. It establishes the tone and ultimately shapes the experience of its students. It must foster learning and a sense of community, and security, while keeping up with ever-changing technology.
The use of smart glass is on the rise in educational facilities because it creates new opportunities for enhancing students' well-being, learning and development, as well as offering energy-saving benefits. In addition, because architectural transparency, the principle of visual interconnectedness, is rapidly becoming a standard in school construction, no material is better suited to offer uninterrupted lines of sight and a sense of openness than smart glass.
Understanding Smart Glass Technology
Smart glass, also known as privacy glass, switchable glass and Light Control Glass (LCG®), is a revolutionary technology that continues to improve over time. With the push of a button or the wave of a hand, smart glass changes from transparent to varying degrees of opaque within milliseconds. Recognized for its ability to provide the option for instant privacy or openness and act as a contemporary shading or light control solution, smart glass is now used in innumerable applications in architecture and interior design, including offices, hotels, retail stores, hospitals, luxury apartments complexes and high-end homes. One of the most remarkable qualities of smart glass is its versatility: it can be used almost anywhere that ordinary glass is used. As smart glass technology expands, so do its applications. That's where smart glass for schools enters the conversation.
The Benefits of Smart Glass in Schools
There are innumerable ways to incorporate smart glass into the design of educational facilities, and multiple benefits to be had. In this article, we explore the various applications and their particular benefits in smart glass schools.
White Boards and Projection Screens
By choosing smart glass, any transparent glass partition can be converted into a whiteboard or projection screen. With the push of a button, the glass turns opaque and an interactive display solution can be created to serve a range of purposes, including presentations, lecture aid, school messages, student artwork and internal communication. Glass whiteboards in the classroom offer a host of benefits, in addition to having a lifespan that is ten times longer than traditional whiteboards:
Compatible with dry erase markers, permanent markers and grease pens
They never stain and are easy to clean and maintain
Sophisticated design and fully customizable
No parallax effect
Energy efficient and reduces printing
Optimized projection surface for high-definition projection
Ultra low haze when transparent
Just as smart glass white boards and projection screens are gaining popularity in today's offices, it's not hard to imagine the myriad of applications that are possible in the school environment.
Let the Sunshine In
Multiple studies have shown that access to natural light is critical for employees' mental and physical health, and has a positive effect on their job satisfaction and performance.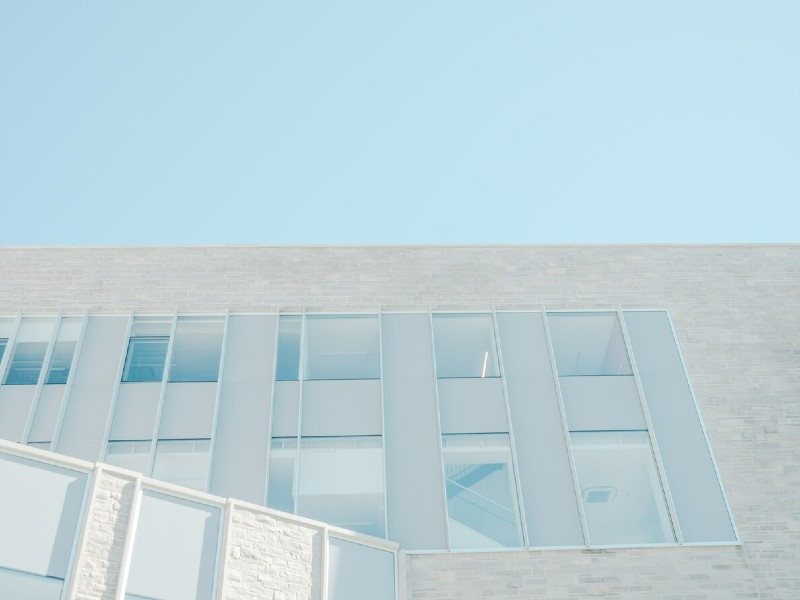 It should come as no surprise that the same benefits apply to students in a learning environment. In fact, recent studies have shown that students absorb learning material 20%-26% faster in a classroom that offers natural light and views of the outdoors.
Glass, a transparent building material, offers access to daylight, provides views of the outdoors and helps connect students to nature. But with this comes the need for shading that reduces glare. Smart glass enhances these benefits of regular glass further, removing the need for traditional shading applications such as blinds and curtains that can obstruct views, while being hard to clean and disinfect. While maximizing daylight, smart glass can also cut down on glare and unwanted solar heat in the classroom, all with the flip of a switch, while offering a sleek and modern aesthetic. Solar smart glass for instance, reflects 78% of IR light, reducing temperatures inside a space by up to 15°C (59°F).
Students' and Teachers' Health
Preventing diseases from spreading in educational facilities has always been a top priority, and this is only truer in our post pandemic world. Smart glass helps reduce the spread of bacteria and molds because it is easy to clean as compared to traditional fabric privacy or shading solutions. When used for windows, it is less costly to disinfect than blinds and curtains and will last far longer without the need for replacement.
In general, the use of glass helps maintain sound levels that are recommended for students. Smart glass also carries these noise cancelling properties, especially when used in facade IGU windows or double pane partitions. Because smart glass can turn opaque at the press of a button, it can also eliminate unwanted distractions inside the classroom, helping learners concentrate on the task at hand. Finally, smart glass can help effectuate social distancing policies. All of these benefits combined help to ensure students and teachers can learn and interact in a comfortable, healthy environment, free from noise pollution and distractions that can cause stress and discomfort.
Adaptable and Multipurpose Spaces
Modern schools should be designed to keep up with ever-changing needs and demands. Gone are the days of enclosed single-use spaces and long hallways. Designers and architects are learning how to incorporate long-term flexibility with the clever use of smart glass, which allows them to design spaces that are flexible enough to meet a school's daily needs by instantly altering the environment.
Here are some examples of how smart glass can be used to create adaptable and multi-functional spaces in schools:
Private learning environments for testing, silent individual work or group work can be instantly transformed into open spaces for teamwork and collaborative learning;
Installing a switchable partition in a larger room allows it to perform many different functions, from small gatherings to larger assemblies;
Walls can double as projection screens or writing surfaces, eliminating clutter while saving on valuable resources.
Energy Efficiency
One of the principal benefits of smart glass in any built environment is its ability to save on HVAC and electricity costs by managing sunlight and heat, and maintaining comfortable temperatures, thereby reducing energy demand.
Imagine a world of smart glass schools and their positive effect on the environment. Here are just a few examples of smart glass's benefits as they relate to energy efficiency:
Reduces thermal transmittance
Blocks IR light
Creates shade
Reduces glare
Safety and Security
Students' and teachers' safety is a primary, if not urgent, consideration in designing and building educational facilities. There are multiple ways that the use of smart glass can contribute to a building's overall security.
Laminated smart glass is considered safety glass because its construction makes it stronger than regular glass, offering another layer of protection against any threats. In addition, the use of glass can deter student bullying, a continuing problem in today's institutions of learning. The use of a transparent design that incorporates windows and clear lines of sight reduces bullying opportunities by providing visual interconnectivity.
In addition, a smart glass wall, door or window can instantly allow anyone outside to see into a classroom with the clap of a hand or the flip of a switch. And finally, glass can provide protection against extreme weather.
If you are designing a school or other educational facility, don't hesitate to contact Gauzy for a free consultation on how smart glass can work for your project.
Want to learn more about Smart Glass or receive a quote? Contact the Smart Glass experts at Gauzy today.