Corporations in today's fast-paced digital world need offices that support collaboration and independence without sacrificing sophisticated design. Glass has become the go-to material for office interiors – but why?
Glass partitions create a needed barrier and organization to a space, while supporting a transparent environment that encourages a certain connectedness between employees.
Glass allows natural light to deeply enter a space, which is known to boost productivity, morale, and both physical and psychological wellbeing. Also with significant effect is the ability for employees to see outdoors into nature and shared areas, which can even give points when applying for a LEEDs certification.
According to Building Design and Construction, the average size of offices has shrunk by 30%, whereas the average amount of space per employee in the US in 2017 was 151 square feet compared to 225 square feet in 2010. Traditional walls from drywall occupy valuable square footage in already limited space, whereas glass allows offices to optimize this much needed square footage.  
Movable glass walls and partitions allow spaces to be modular, and adaptable to the constant changes a company needs. Having an option that allows space to be flexible makes it more valuable and can have less environmental impact than traditional walls, despite being potentially more expensive upfront.
Glass is modern yet classic. The look and feel of a space communicate a business' identity with investors, partners, visitors, and employees. Glass supports individualized design, allowing for a high-tech modern feel OR a clean and classic approach when mixed with dark woods.
But what about Privacy?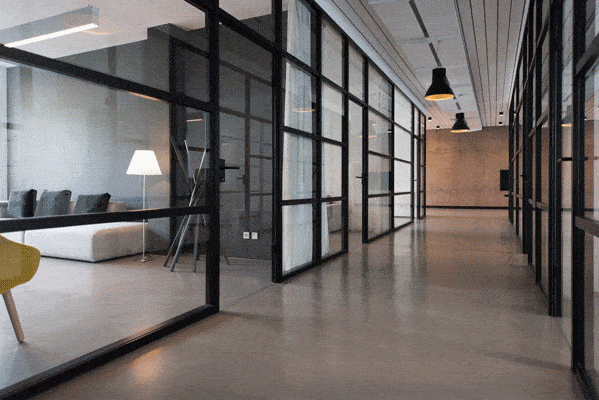 Although modern workspaces crave flexibility, and an open atmosphere, a company and its employees still need privacy. From confidential management meetings, sensitive one-on-ones with HR, to just a quiet place to sit and think without feeling like you're in a fishbowl, privacy is not a luxury, rather a requirement. LCG® (Liquid Crystal Glass), or switchable glass films, allow glass office partitions to switch from transparent to opaque on demand, supporting both privacy and a spacious light-filled atmosphere. Switchable glass can be controlled with a switch or radio remote control, for flexibility with the touch of a button.
LCG® provides additional features making it a high-value addition in terms of functionality, not just design.
LCG® Switchable Films act as an HD rear projection surface. Glass partitions can instantly become a screen when opaque, for presentations, visual art, or company branded videos. 
When films are off and opaque, they act as a whiteboard, without parallex effect like regular glass. Easy to clean without risks of marker residue over time like traditional whiteboards, LCG® is both sleek looking and multifunctional. 
Smart glass by Gauzy is dimmable, allowing for the gradual control of light entering a space. Depending on the time of day, glass can completely allow light in or be controlled. To see how it works, click here. 
Dynamic interior designs can be further enhanced with a splash of color using Gauzy's Spectrum film, or patterned design with Gauzy's Pixels Patterned film. Patterned films can host logos, blinds, or different shapes and patterns for a unique look and feel.
LCG® (Liquid Crystal Glass) upgrades the look and feel of a space, increases productivity, while allowing both privacy and an open atmosphere. Many corporate offices are now using smart glass windows, doors, and privacy partitions, and the demand is growing.