The History of Technology and Glass in Luxury Homes
The term "smart home" is becoming more and more of a buzzword as home technology is incorporated into the construction of luxury homes, providing comfort, convenience, security and energy efficiency. Also called "smart home automation," it describes a residence whose lighting, heating and air conditioning, appliances, entertainment systems, computers and security systems can digitally interact and be controlled remotely from any room in the house or via a smartphone or the internet. It has gained in popularity in the past twenty years, allowing homeowners to save energy and enjoy the ease and convenience of controlling their lighting, HVAC systems and window coverings with a fully integrated system.
Smart glass is one of the latest innovative technologies to take the luxury residential market by storm. Smart glass changes from transparent to varying degrees of opaque on demand.  With a sleek and modern design, smart glass windows, skylights, blinds and window shades help keep homes energy efficient and tech-savvy. It is also ideal for privacy in bathrooms, home offices and home theaters.
Smart home technology is not new. The concept was introduced by Nikola Tesla in 1898 with his invention of remote controls. The Industrial Revolution in the early part of the 1900's paved the way for the introduction of the first home appliances, including vacuum cleaners, toasters and washing machines. In 1969, the invention of the Echo IV allowed users to turn their appliances on and off and control their home's temperature remotely. The early 1990's saw the introduction of gerontechnology, a combination of gerontology and technology designed to simplify the lives of senior citizens.
At the turn of the twenty-first century, there was an acceleration in the use of smart home technology with more affordable options. An increased demand for smart home automation is anticipated in the coming years as homeowners become more aware of its many advantages, including security, convenience and greener living.
While the use of smart technology in luxury homes has been evolving, so has the use of glass. In the not too distant past, only the wealthy could afford basic glass pane windows. While window glass dates back to the Roman era, the earliest forms of architectural glass were too expensive for everyday use. In the 1950's, the development of an automated float glass manufacturing process, which provided high quality at a reasonable cost, made glass much more available. Advances in steelmaking resulted in the use of steel frames to support buildings, so that walls could be made entirely of glass, leading to the modern skyscrapers that emerged in the twentieth century. The first all-glass wall was installed in 1952 in New York City's Lever House.
The Many Uses of Smart Glass Technology in Luxury Homes
Smart glass has the ability to change its light transmission properties when voltage, light or heat is applied, turning transparent or translucent at the click of a button. When the electrical supply is switched on, light passes through and the panels become clear. When switched off, they become opaque, offering privacy or solar control.
Smart glass's application in home design is virtually infinite. Dynamic and multi-functional, the technology is expanding to smart windows and doors, smart glass partitions, smart shower glass and smart glass walls, providing privacy, custom shading and energy control.
Smart glass technology is the perfect tool for modern luxury housing and as a result, its market has been growing in the residential sector. Today, luxury homes almost always feature some form of smart home automation, due to the security and convenience it offers as well as increased environmental awareness. Green tech helps increase the overall energy efficiency of a home. One example is automated shades and light controls, which use advanced technology to control lighting and temperature at the touch of a remote button on a smart phone. By automatically shading based on direct sunlight hours, a home can stay cooler therefore reducing air conditioning costs.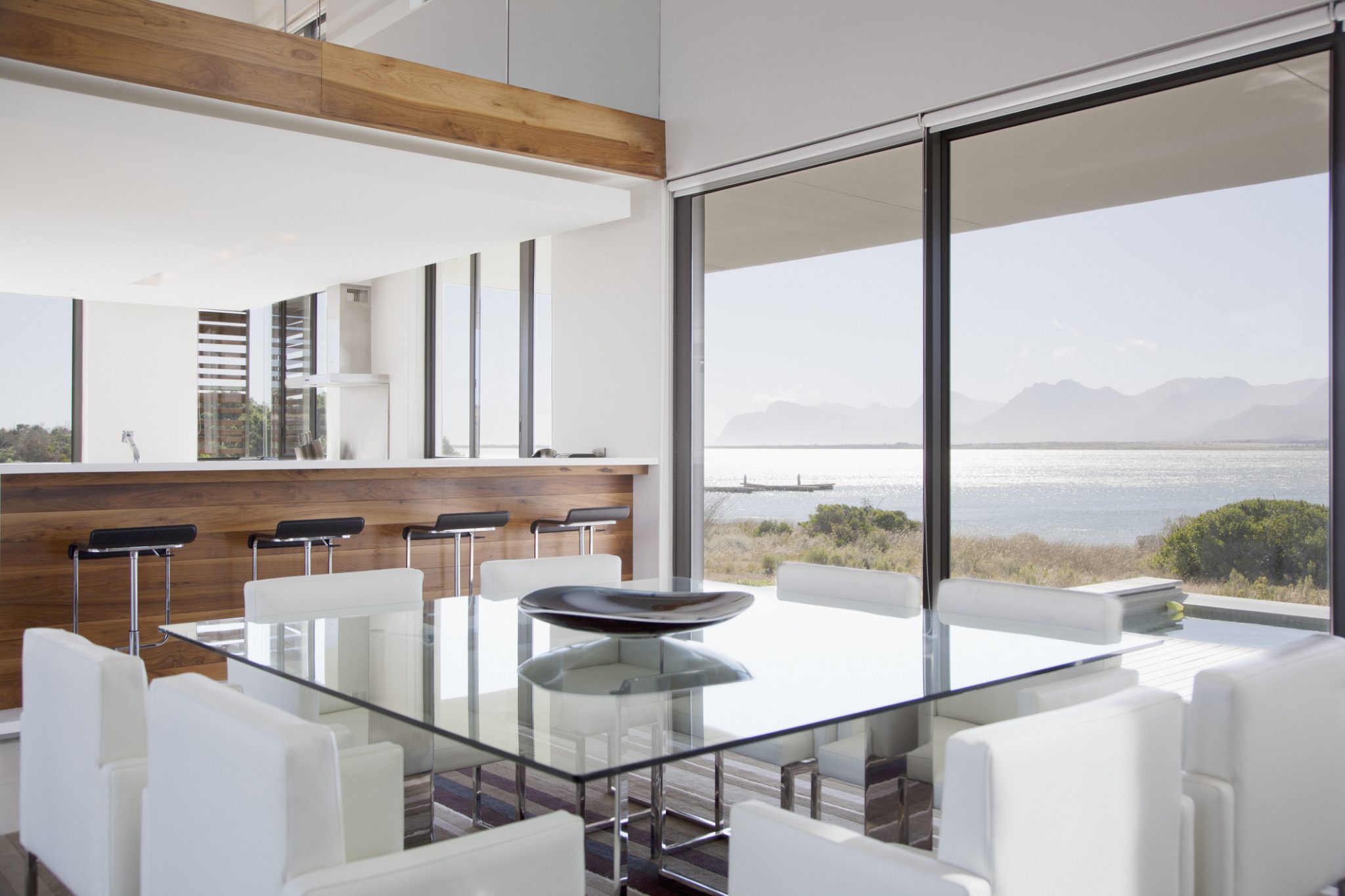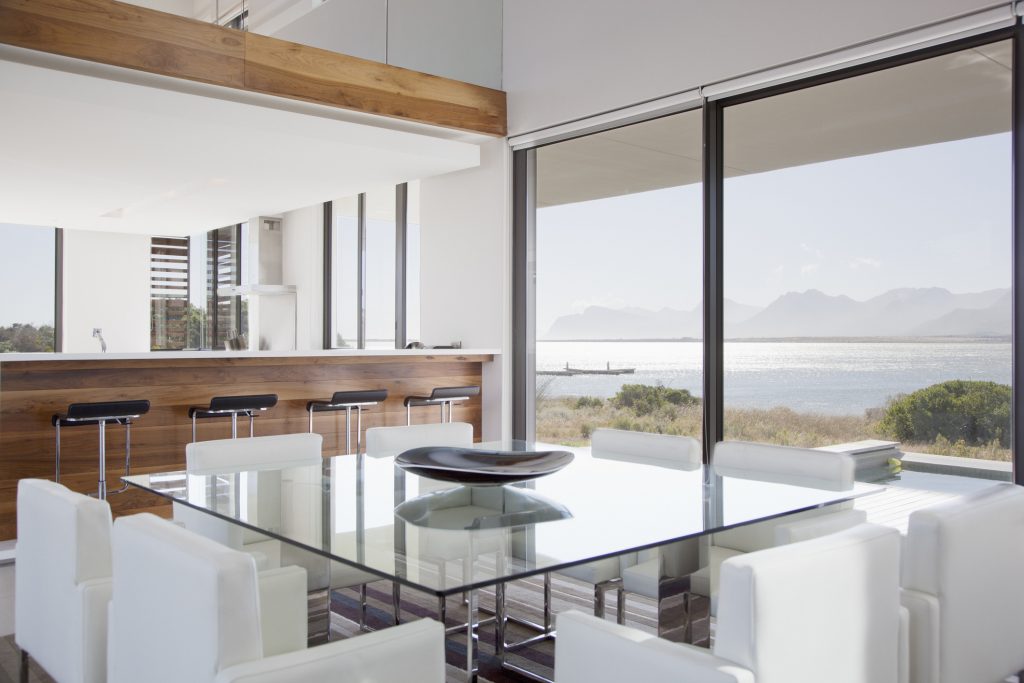 Many high-end residences are designed with an abundance of windows to provide gorgeous views as well let in natural light. High-tech smart glass windows provide a compelling alternative to automated shades by turning clear glass opaque in under 10 milliseconds.
Smart glass provides architects and interior designers many opportunities to get creative with a wide range of applications that are versatile, stylish and contemporary, adding luxury to high-end design projects. Everything from glass walls, large windows and even glass floors adds a unique design element to a luxury home. The ingenious use of smart glass adds a sense of spaciousness and enhances the indoor/outdoor experience of modern houses.
The strategic use of smart glass facilitates control over sun glare and radiation and can create the ability to redirect natural light. With increased awareness of the important role access to sunlight has on one's wellbeing, the incorporation of smart glass into a luxury home's design can result in increased productivity and a sense of happiness. In addition, architectural day lighting using smart glass solutions reduces the energy usage of artificial lighting while protecting the home's interiors from sun exposure.
The use of smart glass in luxury homes has proven to be the next frontier in smart home technology. For anyone looking to enhance a home's comfort, convenience, security and sustainability, this is clearly the technology of the now and the future.