Could open plan be a thing of the past? It doesn't have to be.
Open concepts are an office design trend that makes the promise of more collaborative and productive teams, despite evidence showing that employees actually prefer spaces that have the option for privacy. A 2018 study by Harvard Business School found open offices actually reduced face-to-face interaction by about 70%. Not to mention they facilitate the spread of germs. A study of 1,825 Sweedish employees found people took more sick days when private office spaces were eliminated and traded for open concept office interiors. 

Despite proven preferences for privacy, or greater exposure to germs, this is still an office design concept that many prefer, and therefore, it will not become completely obsolete. As we flatten the curve in response to COVID-19, it's a prime opportunity to rethink how we create the safest, most effective use of office space. After all, minimizing the spread of infection in the workplace will be our new top concern – especially for open layouts that need to adapt quickly for a returning workforce. This calls for designs that keep privacy and smart materials in mind, taking into account boundaries and barriers, but also encouraging collaboration and transparency. What does this look like in practice for architects, designers and builders?
Before anything else, we can expect office designers to turn to glass that is easy to clean over designs loaded with fabrics that are difficult to disinfect. CEO of interior construction company Falkbuilt Mogens Smed said, "most fabrics in office interiors won't be usable anymore, I guarantee it". Glass partitions are a solid solution for dividing spaces, and making them Smart Glass walls takes it to the next level as there is no need for privacy curtains".

Leading workspace and office partition solution expert Nassim Hadjoudj, from Clestra Hauserman, said "money spent in the workspace will be spent differently after COVID-19." It will go to advanced technology, sustainable materials and modifiable build outs that are really agile" he said. 
From new types of Smart Glass partitions, dividers and pods, here are the key ways architects and designers can create the option for privacy, while maintaining a collaborative atmosphere in open office interiors. Think open plan, but better. 
Office Partitions
Glass office partitions are the easiest and most basic way to divide up space, without having to completely remodel the office layout. "Once we go back to the office after COVID-19, there won't be a big reduction to the size of the office, but people will have more space between them," Nassim said. Glass partitions create distance between employees, while at the same time providing dynamic working spaces that increase productivity and optimize floor plans. When paired with switchable films instead of germ harboring fabrics, the need for privacy is available instantly as glass can turn opaque instantly. These types of  office walls are also easier to install when social distancing measures are in place. "Office partitions typically require less manpower to assemble, meaning less staff on site at any one time. This will be a key consideration in life after COVID-19" Mogens said.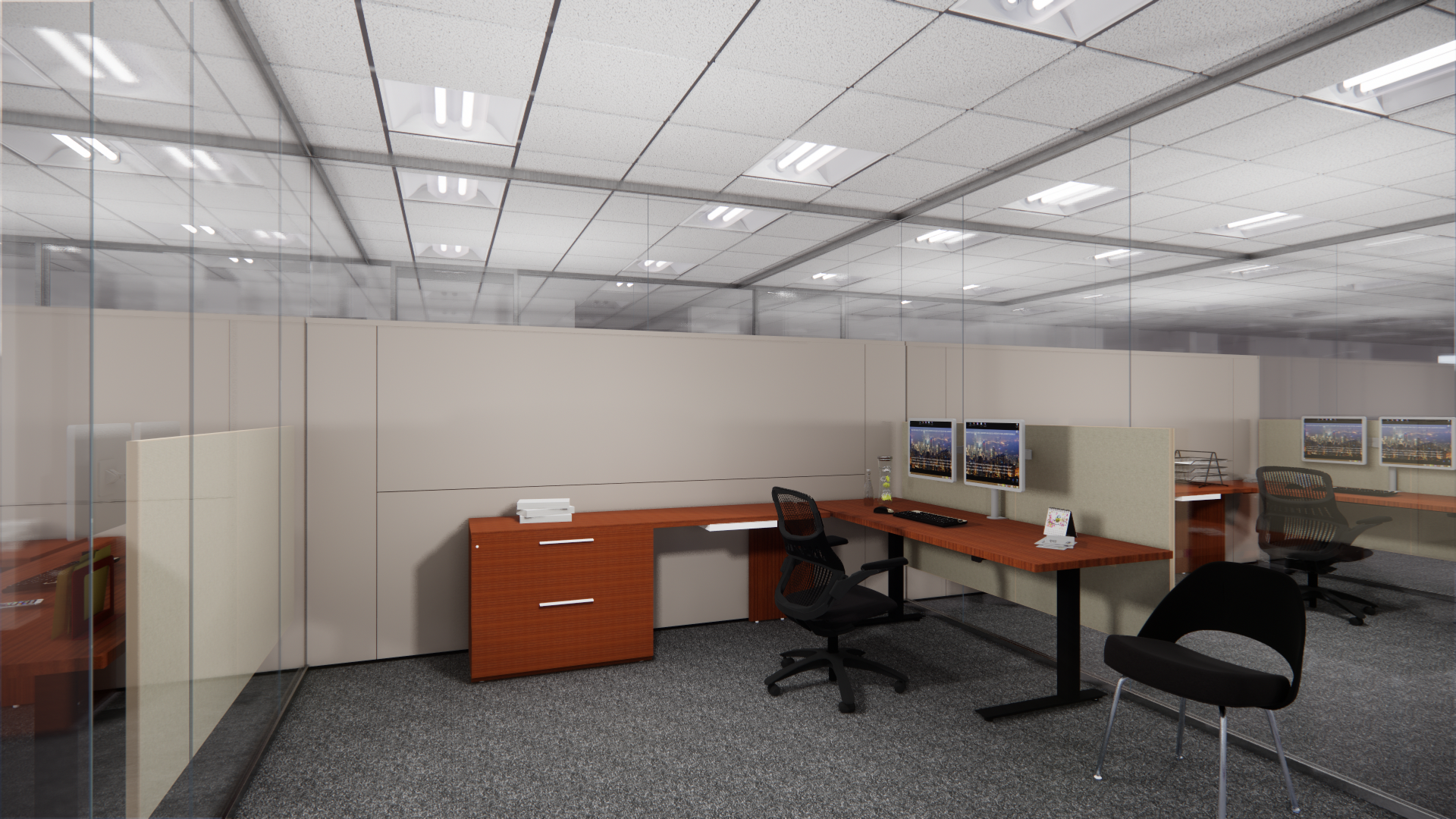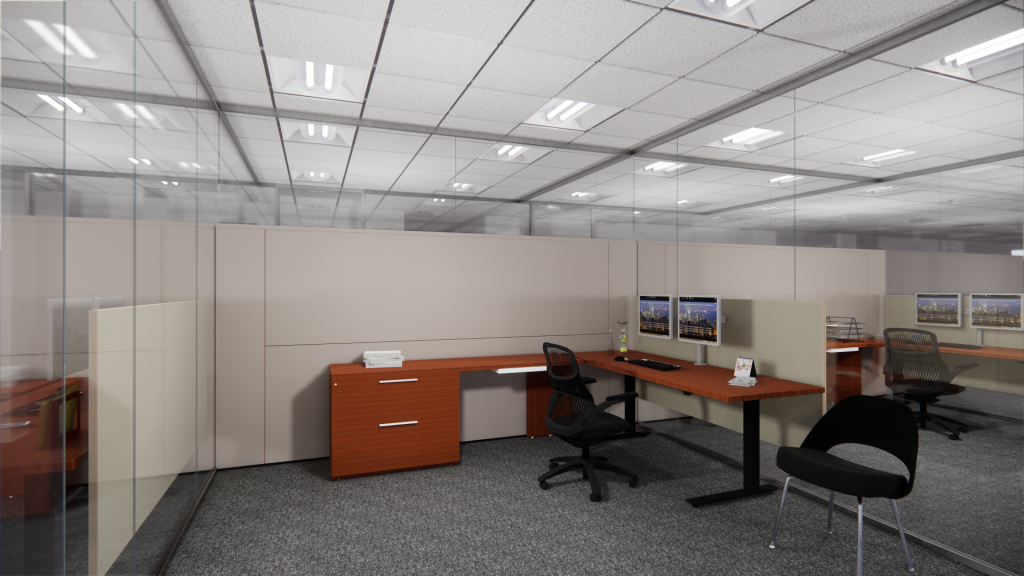 Dividers
Dividers sit between desks and tables to block eye level and below, leaving an open-air space above. These agile solutions are suitable in both individual and communal office areas. Instead of eliminating community or shared tables for instance, we can use dividers to minimize the spread of infection while still allowing for open collaboration. Dividers are easy-to-install and cost-effective, and when laminated with LCG® Switchable Glass, employees can adjust the transparency of the glass on demand. Controlled by a simple button at the edge of the desk, the glass can turn on and off (clear or opaque), adding the option for privacy when desired.
Pods
Pods and free-standing workspaces are an emerging format consisting of easy to assemble and quick to rearrange office walls and partitions that can form rooms of all shapes and sizes. Considering the uncertainty we all face, it's difficult to plan an office for one or even two years away. We must create adaptable spaces and pods lend themselves perfectly. There's even a growing trend for companies to lease pods. In this way materials can be reused and sent to another building, responding to an economy shaken from the pandemic and a growing need for a sustainable office interior design solution. The possibilities of pods are endless and we're just starting to see innovative builds and designs emerge into the marketplace. Pods typically comprise of easy to clean glass, and sound isolating materials which will now be smart materials that are easy to disinfect.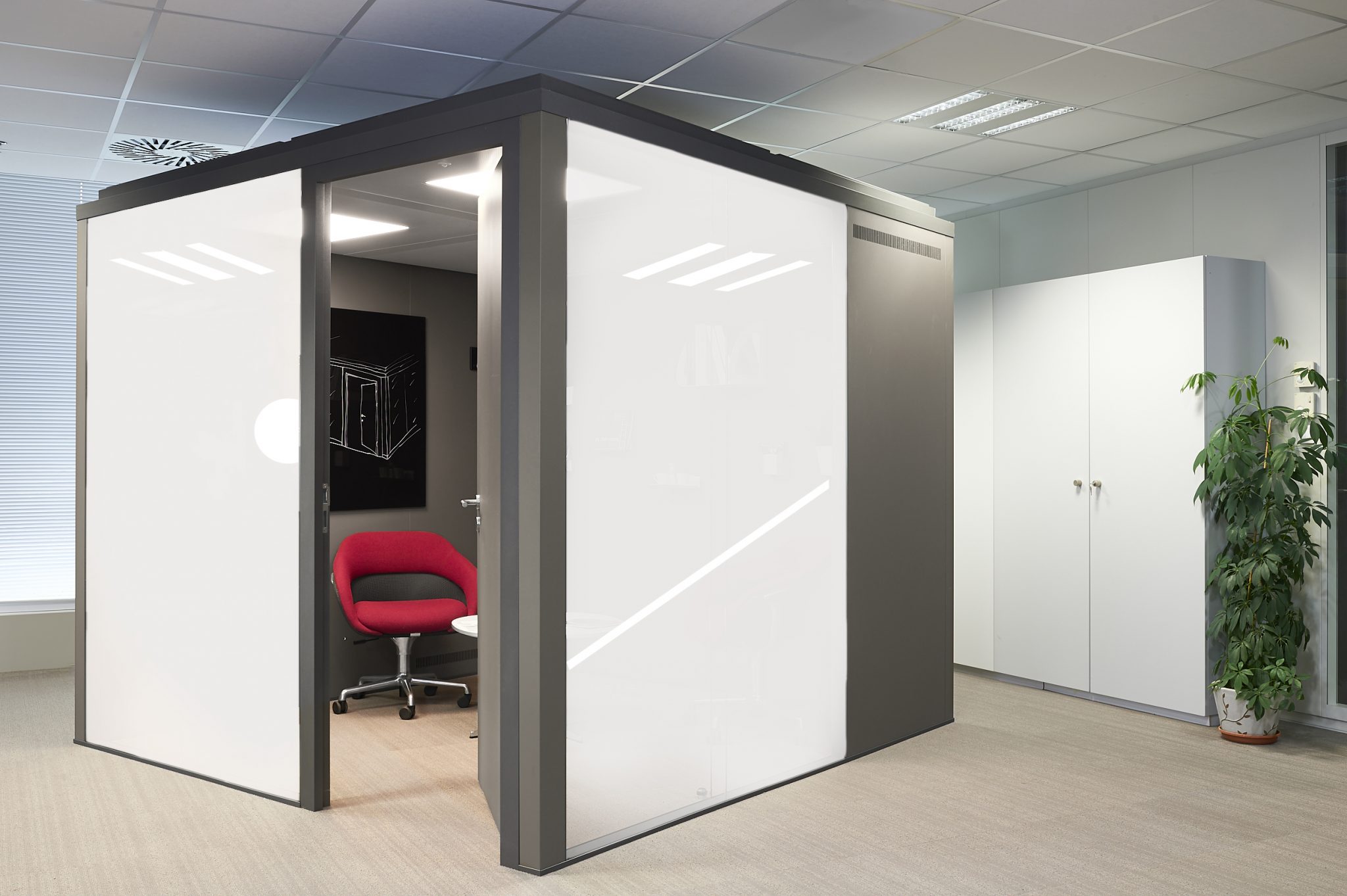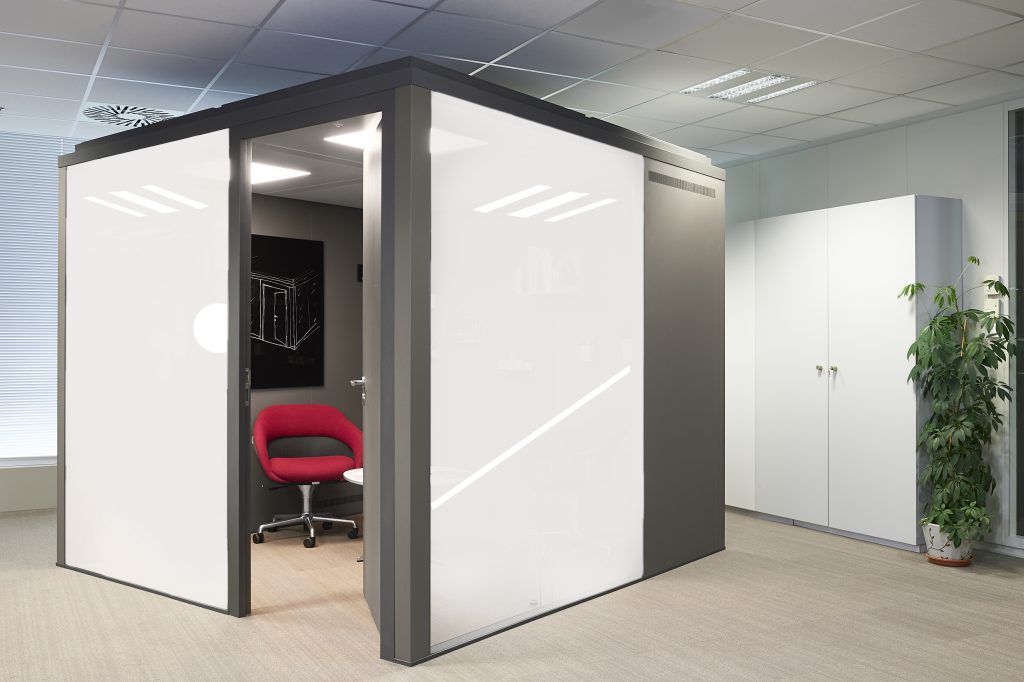 Sure, open plan "as we know it" might be over. But that's a good thing. New agile office interiors will be more adaptable and sustainable, minimize the spread of infection, all the while providing employees with the openness they need and the privacy where and when they want it.
For more on the impact of COVID-19 on building, interior design and architecture, visit our COVID-19 Resources Hub.